Hot


5 hrs and 17 mins

Croc and the Fox Audiobook Sample
Croc and the Fox Audiobook

4 Hearts
This is a series that just keeps getting better and better. In this story, we have Viktor, an ornery croc that has no life outside of work and his weapons. He is sent on a mission to rescue some shifters from a lab of the Mastermind. Things go horribly, or not so horribly, wrong for him when one of the victims latches onto him and won't let go.
Viktor is not happy when his giraffe shifter boss sends him home with the new victim, Project, because there is no room at the compound. Plus this victim who doesn't even know her real name or if she ever had one, trusts no one but Viktor. She's not able to shift because of something that was done to her in the lab, but the do learn that she is a red fox. She is very naive because she doesn't remember anything from her life from before the "incident". It has left her without most of her memory, inability to shift; and she is also infertile. Worst of all, she is agoraphobic.
Viktor get really creeped out calling her Project, so he lists off names until she finally picks Renee. He keeps fighting his attraction to her. He sees her as a victim and doesn't want to push himself on her. Plus, he is older than her. There is also the warm blooded with a cold blooded animal thing.
"In the human world, the only time a croc and a fox got together was when a rich society matron carried one as a purse and the other as a fur stole. But in her world, the world of shifters, anything was possible, even a love between cold blooded and hot."
Not only does this book have a great romance, but it also build quite a bit on the overall story arc. There is a lot of progress made in FUC's mission to track down the Mastermind. This series continues to be a fun light-hearted series. If you are looking for your standard UF that is all kickass and serious, then this probably isn't the series for you. If you're looking for a series that is going to make you laugh and is sexy. The characters are a lot of fun. This is an author that I always turn to when I need a laugh and to get me in a better mood.
Croc and the Fox Audiobook Narration
4 Hearts
Abby Craden continues to a do a great job with this series. I love all the different voices that she does in this series. She has had to add new voices with each book and she has done so with ease. I have zero issue telling the characters apart. I thought her pace and tone continue to be spot on.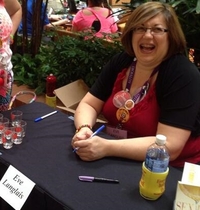 Hello, my name is Eve Langlais and I am an International Bestselling author who loves to write hot romance, usually with werewolves, cyborgs or aliens .
I should warn you, I have a twisted imagination and a sarcastic sense of humor something I like to let loose in my writing. While well known for my shifter stories, I am also extremely partial to aliens, the kind who like to abduct humans and then drive them insane…with pleasure. Or do you like something a little darker, more serious? Then check out my cyborgs whose battle with humanity have captivated readers worldwide.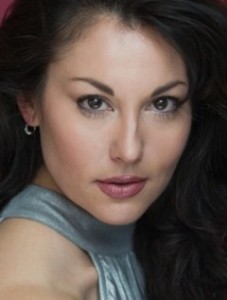 Narrator Abby Craden
Abby Craden works in all aspects of voice-over and can be heard in numerous commercials, animation, video games, and audiobooks. AudioFile magazine has awarded her an Earphones Award as well as named her One of 2012's Best Voices. Abby is an award-winning stage actress and a resident artist with the prestigious theaters A Noise Within and the Will Geer Theatricum Botanicum in Los Angeles. She also works in film and can be seen in the Emmy Award–winning documentary Bloody Thursday. Abby hails from the East Coast and currently lives in Los Angeles.
I like to thank Audible Studios for providing me with a copy of this audiobook in exchange for an honest review.
Reviewed by: