Dead Heat Audiobook
By:
Patricia Briggs
Narrated by:
Holter Graham
Published by: Brilliance Audio 03/03/2015
Warm

11 hrs and 25 mins

Dead Heat Audiobook Sample
Review
Dead Heat
(4.5 Hearts)
In Dead Heat, we have Charles and Anna venturing to Arizona to visit an old friend of Charles' to find a new horse for Anna. The horse that Anna has been riding isn't challenging enough for her, or at least that is what Charles says. Anna likes the horse she has. He wants her to have something with a little more get-up-and-go, so they go visit an Arabian horse farm.
This horse farm and friend just happen to also belong to the local werewolf alpha, Hosteen. No sooner that they show up, Hosteen starts arguing with Charles for refusing to change his dying son into a werewolf against his son's will. Let's not forget that changing someone against their will is a death sentence (Hosteen thinks Charles would get a pass being Bran's son, yea right).
Then the fae attack Hosteen's granddaughter-in-law (who he doesn't like because she is witchborn) and his great-granddaughter. So, once again, Charles and Anna become consultants for the FBI and CANTRIP as they try to track down a fae. It was great to see Charles once again helping people instead of having to kill them. I think it did him a lot of good.
I loved seeing FBI Special Agent Leslie Fisher again. I really enjoyed her in Fair Game. The CANTRIP agents are actually good people in this book. Charles is even surprised that he likes them. Surprisingly, Charles even lets Anna go interview people with just Agent Fisher while he goes with the CANTRIP agents.
As a horse person, I can say that she gives a lot of equine information in an entertaining way throughout Dead Heat. I love the way she talks about the different personalities of the horses. They are like dogs and cats, each breed has general personality traits (Arabians being the Siamese cats of the horse world, loved that line). Then each horse has their own individual personality, too. I really enjoyed how Joseph uses this to his advantage in the story (you'll just have to read/listen to find out what I'm talking about).
Overall, I really enjoyed Dead Heat. I loved meeting the Arizona pack alpha and his family. I found that I really liked all of them, each in their own way. Hosteen and most of his family are Navajo, so you get to learn some about Navajo life, at least in the modern world. This story has everything you would expect from a Patricia Briggs werewolf book. There is tons of action, adventure and suspense. It did have some pretty heartwarming moments, too. The fae, as always, are not as they seem and are not doing as they said. Is anyone surprised? I know I'm not. I expect to see more of them in the future.
Dead Heat Audiobook Narration
My thoughts
(4.5 Hearts)
Holter Graham does a fabulous job with narration of  the Audiobook Dead Heat, as he has done with all of the Alpha & Omega books. His ability to voice Anna's very feminine voice alongside Charles' extra masculine voice is wonderous.
Usually when I listen to male narrators, they have a hard time with softer women's voices. They do fine with snarky, smart assed women, but can't do that ultra feminine voice, which Anna requires, but Holter Graham does a great job. This is a series that I started off reading, but is now a listen only series for me.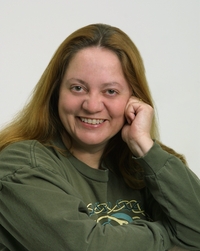 Patricia Briggs was born in Butte, Montana to a children's librarian who passed on to her kids a love of reading and books. Patricia grew up reading fairy tales and books about horses, and later developed an interest in folklore and history. When she decided to write a book of her own, a fantasy book seemed a natural choice. Patricia graduated from Montana State University with degrees in history and German and she worked for a while as a substitute teacher. Currently, she lives in Montana with her husband, children and six horses and writes full-time, much to the delight of her fans.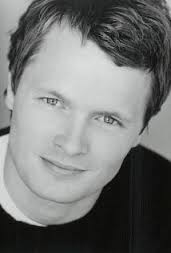 Holter Graham, winner of AudioFile's 2008 Best Voice in Science Fiction & Fantasy for Sherrilyn Kenyon's Acheron, is a stage, television, and screen actor. He has recorded numerous audiobooks, including much of Sherrilyn Kenyon's bestselling Dark-Hunter series. The winner of multiple AudioFile Earphones Awards, he has also read works by Scott Turow, Dean Koontz, C. J. Box, and Stephen Frey. His film credits include Fly Away Home, Maximum Overdrive, Hairspray, and The Diversion, a short film which he acted in and produced. On television, he has appeared in Army Wives, Damages, As The World Turns, Rescue Me, Law & Order and New York Undercover. He received a B.A. from Skidmore College and an M.F.A. from Vermont College.