Firefighter Griffin Audiobook
By:
Zoe Chant
Narrated by:

Lucy Rivers



Published by: Tantor Audio 12/19/17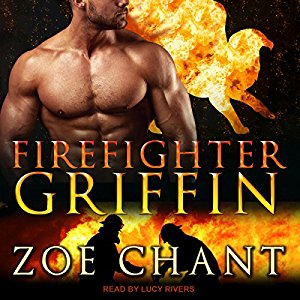 7 hrs and 44 mins
Firefighter Griffin Audiobook Sample
Firefighter Griffin Audiobook

4 Hearts
I continue to enjoy this series. I will say I was a bit surprised by this story. Griffin works at dispatch for the fireteam. He is a shifter, just like the rest of alpha team. He makes sure that they get sent to the incidents that require their "special" abilities. I'm trying to remember if it was mentioned in the previous books about why he wasn't able to work out in the field with the rest of the team. I can't remember, but I don't think so.
Well, Griffin isn't healthy. He is half eagle shifter and half lion shifter. Most people who are hybrids end up shifting into one species or the other. Griffin had both, but couldn't shift into either. Both of his animals fought in his head and their instincts pulled him in different directions. But when a call comes in where a woman says her son turned into a lion and was stuck up in a tree, he knows he has to do something (not to mention get things under wraps, because the world at large doesn't know about shifters). Alpha team is busy on another call. So Griffin, who's shift was over anyway, decided that he could help get the cub down.
Hayley is a single mom. She got pregnant and the father never wanted anything to do with the kid. She was okay with that. She is also a school teacher from the states, now living in the UK. She knows nothing about shifters, so you can imagine her horror when her son shifts into a lion cub and the proceeds to get himself stuck in a tree.
So this is a really cute story. I really liked Hayley and her son, Danny. Danny takes to Griffin instantly. I think the fact that he understands the kid's shifter side really helps. That is until his dad realizes that Danny can shift and decides that he should have Danny. There is a legal battle, alpha challenge battles and more. Just an overall cute story. I also liked what happens with Griffin in the end too.
Firefighter Griffin Audiobook Narration
4 Hearts
I continue to enjoy Lucy Rivers narration of the series. She does several different accents, mostly British and Scottish, since it takes place in the UK. She does well with Danny's little kid voice. He is a five year old boy, if I remember correctly. There are a lot of men and she does a good job with them too.
Narrator: Lucy Rivers
Lucy Rivers is a seasoned narrator of erotica and books on human sexuality.
I like to thanks Tantor Media for providing me with a copy of this audiobook in exchange for an honest review.
Reviewed by: