Impulse Audiobook: A Mageri Series Novel
By:
Dannika Dark
Narrated by:
Nicole Poole
Published by: Tantor Audio 07/07/14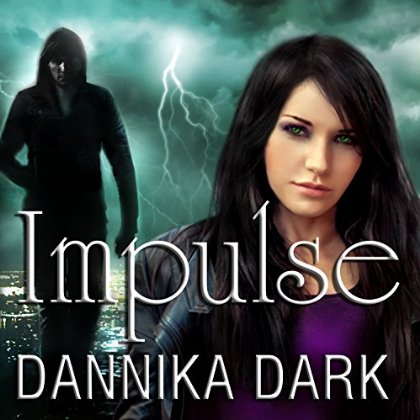 Almost one year ago, a Mage attacked Silver and changed the course of her destiny. Immortals exist, and now she is one of them. Within the dark and supernatural city of Cognito, Silver is living under the watchful eye of her Ghuardian and dating her mortal enemy. Neither man can protect her from a dark secret, one buried within the contents of a box. As rival factions struggle to gain control, she finds herself in the middle of a centuries-old feud that threatens to drive a wedge between her and Logan Cross, the man who intends to seduce her. In an explosive turn of events, one life is saved and another is forever altered. Can Silver trust those around her, or are they hiding a dark secret of their own?
©2012 Dannika Dark (P)2014 Tantor

Impulse felt a little bit like a filler book to the series to me. It didn't have a strong plot line like the first two books. It almost felt like a PNR book, as it focused a lot of the relationship between Silver and Logan. That is not to say there isn't conflict, because there is. It just seemed more of the secondary plot.
In this book, we meet a new character in Christian. He is a vampire and becomes a guard for Silver when she takes on new responsibilities for the Mageri. She needs the freedom to travel around without her Guardian all the time. Christian is really funny and a great addition to cast of this book.
Silver learns a lot about her human life when she and Christian go back to Texas to question her mother. There is a reason she is so different from the other Mage. She also learns why she has trust issues. Her mother wasn't much of a loving mother. She always blamed her past boyfriends, but her mother was never there for her. For example, when she was sick as a child, her mother would give her meds and fluids and leave her alone. If she there was a mess from the sickness, Zoe had to clean it up, even as a child.
Silver has some difficult times in this book, both emotionally and physically. Logan really steps up and shows how much he cares and what he is willing to do to be there for Silver. Max, the disappearing, reappearing cat, comes back into the series. He seems like an afterthought in this series. I would've thought Silver would have wanted his companionship more during some of the tough times, but that never happened. I just don't know what the point of him is.
While, Impulse did feel like a filler book, I love watching the relationship between Logan and Silver grow. I also really like the addition of Christian. There is a lot we learn about Silver's past. We also have a glimpse into Justus. Can't wait to see where the series goes next.
Impulse Audiobook Narration
Once again, I think Nicole Poole is good choice for this series. I think she does a great job with Simon's British accent and now we add in Christian with an Irish accent. You can read my reviews of her performances here and here.
Nicole Poole is a classically trained actor with equal passions for literature and improvisation. She has toured with the Royal Shakespeare Company, has been a member of the critically acclaimed Walter Thompson Orchestra for over fifteen years, and recently became a member of the Parisian groups SPOUMJ and Anitya. She is honored to have been recognized for her narration by an AudioFile Earphones Award, a Publisher's Weekly Listen-Up Award, and nomination for an Audie Award.