Kingdom of Needle and Bone Audiobook

Narrated by: 

Cris Dukehart
Published by: Tantor Audio 4/30/19

3 hrs 3 mins
Kingdom of Needle and Bone Audiobook Sample
Kingdom of Needle and Bone Audiobook

4.5 Hearts
I'm a huge Mira Grant fan. I've read (or well, listened) to all of her stuff. I love her writing so much, that I now grab all of her stuff, not having a clue of what the story might be about. She hasn't failed me yet.
So this story is about how Measles mutates into a whole new disease that is basically Measles on steroids. Which they call Morris's disease, named for the little girl who was the first to die from it. 10 million people die and then, as with regular Measles, people lose their immunity to other diseases. With Morris's disease, people's past vaccinations are not only nullified, future vaccinations won't work either. They are basically at the mercy of their own body's ability to fight whatever comes their way. Whooping Cough, Small Pox, Mumps, they are all back in play.
This is a wonderful cross between sci-fi and horror. Kingdom of Needle and Bone is about what could happen when everything goes wrong. If real life possibilities of worst case scenarios bother you, this is not the story for you. I could truly see something like this happening in the real world. It is a novella length story at 108 pages and 3 hours of listening, but it is a full and complete story.
Kingdom of Needle and Bone Audiobook Narration
4.5 Hearts
I'm a huge fan of Cris Dukehart. I've listened to her read the fun Shifters Unbound series by Jennifer Ashley, which can be a bit dark, but is much lighter than a horror story. I was curious how she would do with something much more serious and a bit on the scary side. She did a great job. There is a decent size cast, especially for a novella and she does a good job with it. She has many different types of people, from children and scientist to billionaire businessman. All the voice choices were perfect. If you' not tried Cris Dukehart, I highly recommend her work.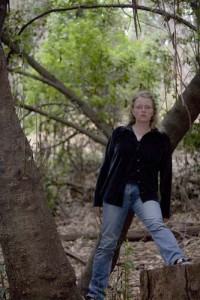 Mira Grant was born and raised in Northern California, where she has made a lifelong study of horror movies, horrible viruses, and the inevitable threat of the living dead. In college, she was voted Most Likely to Summon Something Horrible in the Cornfield, and was a founding member of the Horror Movie Sleep-Away Survival Camp, where her record for time survived in the "Swamp Cannibals" scenario remains unchallenged.
Currently, Mira lives in a crumbling farmhouse with an assortment of cats, horror movies, comics, and books about horrible diseases. When not writing, she splits her time between travel, auditing college virology courses, and watching more horror movies than is strictly good for you. Favorite vacation spots include Seattle, London, and a large haunted corn maze just outside of Huntsville, Alabama.
In her guise as mild-mannered urban fantasy author Seanan McGuire, Mira was the recipient of the 2010 John W. Campbell Award for Best New Writer. You can find her works as both Mira and Seanan at her main bibliography page. Seanan's website is the best place to find information on where both she and Mira will be appearing.
Both Feed and Deadline have been nominated for Hugo Awards, as has "Countdown," the first novella in the Newsflesh universe.
Reviewed by: