Last week of JUNE is Audiobook Month Giveaway!
Hot Listens congratulates the Winners!!
Nikki Reader
Amy Hoffman
An e-mail has been sent to winners.

They  will have 48 hrs to claim your prize, before another winner gets picked.
A big thanks to all for your participation!!
Since we had no reply to  the e-mail, and the  facebook message from the second winner, I have just picked another winner (6/20/15)! Congrats to:
NEREYDA G.
A new e-mail has been sent.
I like to save the best for last! The folks at Recorded Books have been generous enough to include HOT LISTENS in their fantastic JUNE is Audiobook  Month giveaway!
This  giveaway will include:
A set of Narrators Trading cards! How awesome is that?
Audio CDs: During BookCon their narrators signed the covers of their most popular Recorded Books titles, some of these will be included in the giveaway.
Free Downloads: If you have not been following the industry, you may not be aware that HighBridge Audio and Tantor Media are now divisions of Recorded Books, and lucky for us, they are giving away two download codes, one for highbridgeaudio.com and one for tantor.com. Each code is worth 25 free audiobook downloads—free audiobooks for the year!
There are going to be TWO WINNERS here at Hot Listens! First winner to respond to the e-mail will receive their choice of code (Tantor or HighBridge code) plus a set of narrators trading cards or the audio CDs from the publisher.
To enter just fill the Rafflecopter for bellow. This giveaway is open to all over 18 years-old  US residents.
Good luck from HOT LISTENS!
Audiobook Month Giveaway - Narrators trading card Samples
Audiobook Month Giveaway - Downloads!
Audio CDs Samples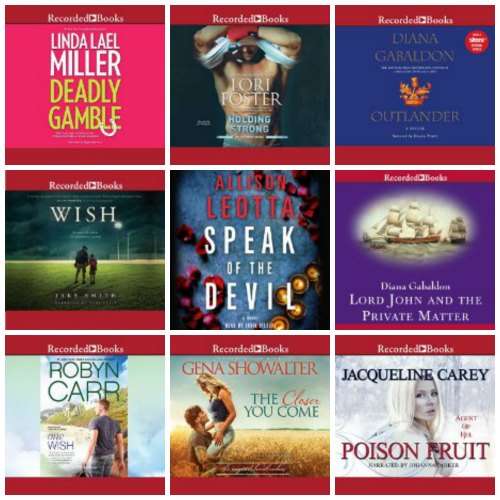 Enter the JUNE IS AUDIOBOOK MONTH Giveaway! Good luck to all 🙂