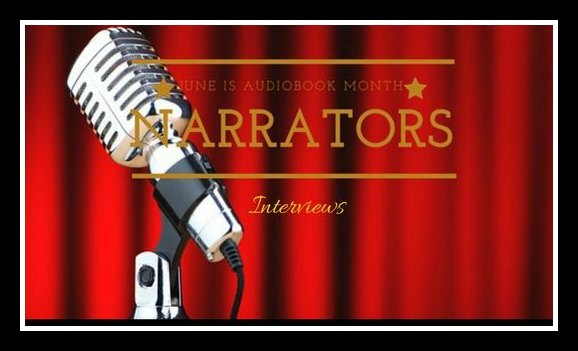 June is Audiobook Month. We will have several narrator interviews, along with other audiobook posts and of course audiobook reviews. Lastly, don't forget to check out our giveaway.
Meet Daniela Acitelli
My name is Daniela Acitelli and I'm a professional 'Audible Approved Producer' Audiobook Narrator with a Theatre, Film, Cabaret and Circus background. I am an actress with stage training. I've studied the Meisner technique and Lee Strasberg's "Method" acting. You can find me on Audible, Itunes and Amazon and I'm also a narrator for the RNIB, SpokenRealms, Deyan and Whitehouse publishing.

Daniela Acitelli's Audible Listings

Daniela Acitelli's Facebook Page

Daniela Acitelli's Twitter @danielaacitelli
An Interview with Daniela Acitelli
1. How did you get involved in recording audiobooks?
Although I was an actress my entire life I never even thought that I could be paid to record audiobooks. Despite the fact that I've listened to audiobooks every night for many years. Audiobooks have been with me through some of the best and worst times of my life. So when I was working as a voice actor in London I contacted the Royal National Institute of Blind People and it was through them that I started narrating. I remember walking out of the building after my first day of recording and standing in the street right outside the studio calling my friend and saying I have to do this forever. From that moment on I was obsessed. If I had my way I would just narrate every minute of every day.
2. What type of prepwork do you do before recording a new book? Do you prepare differently if the book is standalone or first in a series versus later books in a series?
If I'm working directly with the author we have some initial discussions about process, character preferences etc. If working with publishers I usually figure it out myself unless I have specific questions. I always read the book fresh first then I go in and mark it up highlighting any questions, trying to keep the writer's requests in mind. If I know it's going to be a series I try to have more conversations with the writer to make sure we nail the character voices because I don't want a minor character in book one to show up in book 4 with a heavy accent. If another narrator has already done a book in the series I will buy the book but I try to be careful and only listen lightly I want to capture tone without focussing too much on 'matching'. There's a fine line between the technical aspects of the book and telling a story. I try to address all the technical aspects early so I can then 'lose myself' in the characters.
3. Do you narrate every book that comes your way or have you ever turned one down. And if you have what made you decide not to go forward with this project?
Unfortunately I have had to turn down some really terrific projects purely because of rate. When you first start you're so excited to be offered any book but I narrate full time now so I'm having to also wear the 'business person' hat. Beyond that I'm pretty open to any genre.
4. What is the element of narration that you find comes easiest (accents, age, emotion, rhythm of the story)?
Relationships. I find the relationships between the characters the easiest. I love a really emotional story and I find it really easy to narrate both male and female characters so those dialogues are my absolute favorite to do.
5. What is your favorite thing about performing audiobooks?
Making people cry. Who knew that would be the best part? I love it when a writer sends me a message after listening to their book and they're shocked that they actually cried.
6. What was your most challenging read? What made it so difficult?
I had an early book that was very technical, and I spent a lot of time tripping over pronunciations. I learned the hard way that although I can of course look up the words and prepare it's too hard to keep your flow when you're having to stop frequently because the words aren't natural to you. For this reason, I stick to Fiction if I do any non-fiction it would be self help but I avoid technical books full of terminology.
7. Which famous person, living or dead, would you most like to meet and why?
Charles Bukowski the poet, novelist, I've heard he was a really unpleasant person, but he was 100% himself and I love that. My favorite quote from him is 'Some people never go crazy. What truly horrible lives they must lead.'
Daniela Acitelli Audiobooks
The Coach's Boys series by Kristy K. James
Rain of Ash: A Zyne Witch Urban Fantasy by Gwen Mitchell
New York Echoes by Warren Adler
Frankenstein by Mary Wollstonecraft Shelley
Daniela Acitelli is giving away some audiobooks.
Open to all over 18 years-old. Open to all who can receive audiobook codes from Audible. One random commenter will receive a copy of the entire Coaches Boys Series. Then two random commenters will receive a copy of New York Echoes by Warren Adler and two other commenters will receive Rain of Ash by Gwen Mitchell. (total of five winners). Winners will be announced July 2, 2018.

Enter our Audiobook Month Giveway!
Open to all over 18 years-old.
By entering this giveaway you agree to our privacy policy.