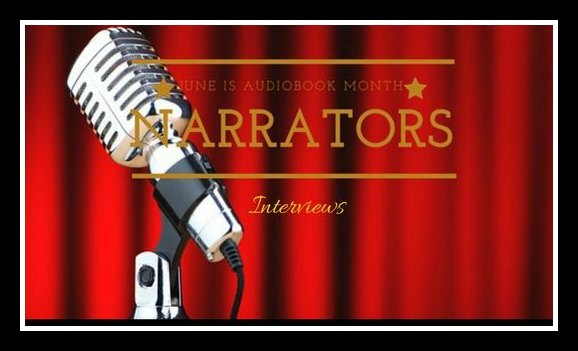 June is Audiobook Month. We will have several narrator interviews, along with other audiobook posts and of course audiobook reviews. Lastly, don't forget to check out our giveaway.
Meet Dorian Banes
Howdy, Hot Listeners!

In keeping with this year's June Is Audiobook Month (JIAM) blog event, I thought it would be fun to interview one of my favorite narrators. This narrator was one of the first during my early days of audiobook listening to really hone my interest in the audio format. I remember being riveted to the story and trying to eke out just a few more minutes before I had to set aside my headphones and return to real life.

Whether it has been cowboys, bikers, or fantasy world warriors, Dorian Bane has delivered a rock solid story. I'm pleased to welcome him today.

Dorian Bane's Audible Listings
An Interview with Dorian Banes
How's it going, Dorian! It's a real pleasure to have you drop by this warm summery day for a chat. Have you been able to get out and enjoy the nice weather?
Hi Sophia!
It goes well. Thank you so much for having me and for your kind words for my work.
While I have been a bit busy and thus stuck indoors often, I have managed a few forays into the sunshine as of late. I visited a local metro park recently to do some hiking, had a few fires on the patio and even spent a day on the river with friends, kayaking for the first time! I honestly can't even put into words how happy I am to finally have warm weather here in full swing!
You said it! I thought summer was never coming.
As a way for our readers to get to know a bit about you, would you please share how you got into narration work?
To be truthful, I just kinda fell into it. A longtime friend of mine, Nick J. Russo, started up a studio, Dark Night Sound, and was in need of narrators. He was aware that I enjoyed acting as well as doing voices and asked me if I might like to give it a try. I fell in love with the work, and the rest is history.
What a coincidence! I had the pleasure of interviewing Nick for last year's JIAM event. That does sound like things came together so well for you.
What are some interests you enjoy when you step away from the sound equipment?
Wow, where do I start? Well, I ride with a local charity motorcycle club that focuses on children's' charities. So whenever I am able to get out on two wheels I try to. When not recording or riding you will most often find me with family or friends, enjoying good food and strong drinks. I love games (RPG, board, card, video), you name it and I will try to play it at least once. I also build and paint miniature models.
Definitely fun times, there!
Do you listen to audiobooks? If so, what's one you've really enjoyed?
It's kind of embarrassing to admit, but I have not sat and listened to a whole audiobook since the book on tape days. I do recall enjoying Edgar Allen Poe's The Raven and The Pit and the Pendulum very much though!
Actually, no worries, there. I think I would have been more surprised if you admitted to having an Audible Gold membership. I would imagine that as much as you enjoy it; its work and you want a break from that world when you're not working.
I'm always curious about the work that goes on behind the scenes making an audiobook. When you get a book for narration, what are some things you do to prepare for the production? Is it significantly different for each new book?
I would say that the process is usually the same or very similar for most books. The first thing I do upon receiving a manuscript for a book I am to narrate is, surprise, read it!
I read the entire book cover to cover while taking notes on all of the characters that have a speaking part. I try to pay close attention to any descriptions of how the characters may act, feel or sound. Sometimes during this process, (Which I call the Pre-Read.), it can be helpful to go online and read reviews for the print version, to see how closely my interpretations of the characters may match up to a cross section of other readers.
Once I have finished my pre-read and have used my notes to come up with what I believe to be suitable character voices, I record a sample of the first fifteen minutes of the book. The sample is then sent to the studio for editing. After being edited, the fifteen minute sample is sent to the author and publisher to listen to.
If I get the green light, production begins, if not, then it's back to the drawing board to find the right voice(s).
Do you pick and choose assignments or do you pretty much take on all books that are offered?
I would say that I rarely "pick and choose". There have been a few titles that I have had the option of auditioning for that I chose not to, but usually I am contracted through one of the studios I work with or I have chosen to audition for it. I don't believe I have really had any projects that have been offered that I have turned down.
Have you had any books really push you as a narrator? And, if so, how?
All the time! While not every book is a major challenge, I find that I am challenged to some degree with any book I take on. It's a part of the business, and often the challenge itself may depend entirely on the book itself.
Here are a few examples:
– Sacrati by Kate Sherwood had a huge cast of characters to keep track of over a twelve and a half hour book.
– Sweetwater by Lisa Henry was a unique challenge due to the main character, Elijah, being hearing impaired from having scarlet fever as a child.
– Fangs and Catnip by Julia Talbot kept me on my toes with a very diverse cast of supernatural creatures including vampires, a gorgon, a gargoyle, a demon and more shifters than you can shake a stick at!
– The Blame it on the Shame series by Ashley Jade had more female character voices in one book than I am used to and I found differentiating their voices to be more difficult.
Sometimes the book itself is pretty straightforward and instead you run into external challenges that are out of your control.
– I recorded Stranded by Helen Kay Dimon while I was sick, but luckily for me, the MC's are gruff soldier types.
– Both His Boy and His Master by Bink Cummings are duet narrations where Nick J. Russo and I work opposite each other….Literally…in a scorching hot booth… in the dead of summer!
And sometimes I find that I make my own challenges…
– In Base Instincts by Larissa Ione I chose a super stylized narration voice, that I discovered to my horror halfway through recording, was destroying my throat!
Uh oh! Time to deep six that voice style.
What is your favorite part of narration work?
As far as the actual work itself is concerned, I think my favorite part is coming up with character voices. I really enjoy studying characters and trying to relate to them to help me find the right voice for each character. Aside from that, it's things like this. Being able to connect and share with listeners, readers and others within the industry who appreciate what I do is always amazing!
Is there a certain book, type of book, or genre that you haven't done, but you would snatch that work up in a heartbeat?
When I manage to eke out time to read for pleasure, it is usually scifi, military fiction, fantasy or some combination thereof. I also really enjoy comics and graphic novels. I think it would be a lot of fun to work on any of those! I have even considered lending my voice to a web comic if the right one comes along. I did manage to land a role in the videogame, Welcome to the Game, available on Steam a little while ago and had a blast recording for it! I would do that again, no questions asked!
Alright, I have to make you tattle on yourself, what is one of the funniest audio- bloopers you've done?
Wow, that is a tough one. You really don't need to be in this business very long before those begin piling up! I know I have a ton that have went the way of the cutting room floor, most of which are littered with jibbering rants about nothing and long strings of perfectly good, yet often looked down upon five letter words.
That being said, I believe the most comical ones are usually the arguments that I have through the wall of my booth with my roommate's cat. She will stand just outside of my booth and meow at me just loud enough to cut into whatever I am recording! It usually ends with me taking a break to pet her until she feels I have adequately served my purpose and then she leaves and I am free to continue.
What a hoot! Bet they never mentioned cat disruptions in the job description.
And, before I let you go, what book/s you've done most recently? Any new releases coming out that you can share about?
My two latest releases, as of writing this, are Hell and Back by Dirk Greyson and Dirty Deeds by S.E. Jakes. I am currently putting final touches on Blame it in the Shame Part 2 by. Ashley Jade and Boomers: Deadly Genesis by Heather Long and hope to begin master recordings for book 3 of the Boomers series, Boomers: Unstoppable within the next few days. So, look for it on the horizon as well.
Well, look at that! Nice little stack to watch for.
Thanks a bunch, Dorian, for dropping by.
Any time Sophia. I had a blast answering your interview questions and hope that everyone enjoys it as much as I have. Again, thank you so much for allowing me this opportunity to connect with you and everyone else at Hot Listens!
Till next time…
-Dorian Bane

Enter our Audiobook Month Giveway!
Open to all over 18 years-old.
By entering this giveaway you agree to our privacy policy.