Hot


4 hrs and 1 min
Swan and the Bear Audiobook Sample
Swan and the Bear Audiobook

4 Hearts
Another wonderful read/listen by Eve Langlais. She never fails to bring humor to my day when I'm listening to her stories. Swan and the Bear picks up where the previous story leaves off. Our hero is the brother of book one's hero. Mason is less grumpy and more fun-loving than his brother. He is known as a ladies' man. He has always had fun with this, that is until he meets Jessie.
Jessie is a geek and a swan working among a bunch of mammals at FUC. She is running from her arranged marriage. She is actually a swan princess and her father is trying to marry her to a prince to get a new ally. She is also half Australian black swan.
There is still the evil genius trying to kidnap and run experiments on shifters. FUC is trying to track him down. He is also setting all of his focus on Miranda from Bunny and the Bear, after he sees her shifted form (hehehe). Mason takes it as his goal to protect Jessie after she is almost kidnapped. Jessie wants no part of it.
Jessie is very attracted to the big bear, but she has no intention of being another notch on his bedpost. She doesn't like the fact that he doesn't want to let her out of his site. She also doesn't like how much she is attracted to the bear.
This is another very quick and fun listen by Eve. It is will make you laugh out loud on more than one occasion with lots of fun jokes about prehensile lips and other sexual innuendo. Let's not forget Mason's obsession with Yogi Bear and picnic baskets. This series has been a great series to slip between the horror books that I've been reading up to Halloween.
Even the temptation hidden in a stolen picnic basket didn't excite him as much as the thought of touching or tasting her did. Campers everywhere would rejoice.
Swan and the Bear Audiobook Narration
3 Hearts
Abby Craden did a great job with narration once again. I love all of her voices for all the different characters. They all seem to fit their personalities. I never question which character is talking. The tone and pace is perfect for me.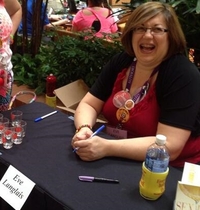 Hello, my name is Eve Langlais and I am an International Bestselling author who loves to write hot romance, usually with werewolves, cyborgs or aliens .
I should warn you, I have a twisted imagination and a sarcastic sense of humor something I like to let loose in my writing. While well known for my shifter stories, I am also extremely partial to aliens, the kind who like to abduct humans and then drive them insane…with pleasure. Or do you like something a little darker, more serious? Then check out my cyborgs whose battle with humanity have captivated readers worldwide.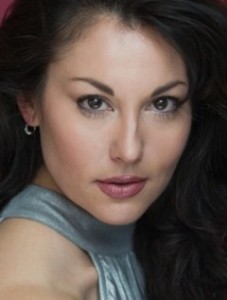 Narrator Abby Craden
Abby Craden works in all aspects of voice-over and can be heard in numerous commercials, animation, video games, and audiobooks. AudioFile magazine has awarded her an Earphones Award as well as named her One of 2012's Best Voices. Abby is an award-winning stage actress and a resident artist with the prestigious theaters A Noise Within and the Will Geer Theatricum Botanicum in Los Angeles. She also works in film and can be seen in the Emmy Award–winning documentary Bloody Thursday. Abby hails from the East Coast and currently lives in Los Angeles.
I like to thank Audible Studios for providing me with a copy of this audiobook in exchange for an honest review.
Reviewed by: