9 hrs and 33 mins

The Single Undead Moms Club Audiobook Sample
The Single Undead Moms Club Audiobook

4 Hearts
I'm a huge fan of Molly Harper's Half Moon Hollow and Jane Jameson series. This book is a great addition to the vampires of Half Moon Hollow. Libby Stratton is a single mom with a young boy of about six. She was widowed not that long ago and now she has terminal cancer. She can't think of leaving her boy without either of his parents. So she puts out an ad to find a vampire to turn her so that she can live. What she didn't think about was how the people of Half Moon Hollow would react.
Small towns can be a bitch. I was originally born in a small town in South Georgia. Reading Half Moon Hollow books remind me so much of that little town, it is hilarious. Gossip circles and cliches are all the rage. Once one person finds out that Libby is no longer human, it doesn't take long for it to spread around the town. What's worse, is that her son, Danny, gets a lot of the backlash, as if he had anything to do with it.
As much as Libby is ostracized by humans that she really wasn't that great of friends with anyway, she has gain a great new group of friends in the vampire community in Jane, Dick and the gang. They really come into help Libby when she really needs it.
There is also single father, Wade, and his son Harley. Harley and Danny become fast friends which pull Wade and Libby together. There is instant chemistry, even if they started off on the wrong foot in the school. On the plus side, Wade isn't put off by the whole vampire thing.
Libby is also having to fight for custody of her child has her in-laws fight for custody. They don't want just partial custody either. Her father-in-law is convinced that Libby is hanging out with a bad crowd and that this vampire thing is really bad for Danny. He wants full custody with no visitation.
I found this story to be another great addition to the story. As always, it was a lot of fun. Full of laughs and snarky humor that I've come to expect from a Molly Harper book. It was great to see the large cast of characters, as almost everyone from the series made an appearance.
The Single Undead Moms Club Audiobook Narration
4 Hearts
Amanda Ronconi does yet another wonderful job with the narration of this book. I just love the way she is able to bring out the humor in these stories. She is able to handle the increasing large cast of crazy characters with ease. She has no issues with male or female voices. She does a great job with her tone and pace.
Being a huge fan of vampire movies and TV shows, I wondered, what would be the most humiliating way possible to be turned into a vampire- a story that a vampire would be embarrassed to share with their vampire buddies over a nice glass of Type O. Well, first, you'd have to make the protaganist a bit of an accidental loser. She's single, almost 30, and a librarian working in the small Kentucky town where she grew up. This "triple whammy of worry" has made her a permanent fixture on her Mama's prayer list. And despite the fact that's pretty good at her job, she just got canned so her boss could replace her with someone who occasionally starts workplace fires. She drowns her sorrows at the local faux nostalgia-themed sports bar and during the commute home, she's mistaken for a deer and then shot by a drunk hunter. And then she wakes up as a vampire.
And thus, Jane Jameson and the wacky denizens of Half-Moon Hollow were born.
It took me almost a year to complete and edit a draft of the book, which I planned as the first in a three-book series. I spent three months using agentquery.com to ruthlessly stalk potential literary agents. (There were a lot of lists involved, I don't want to re-live it.) I was gently rejected by at least half of them. I corresponded with some very nice, very patient people, but ultimately signed with the fabulous Stephany Evans of Fine Print Literary Management. Stephany was willing to take to the time to give me advice on how to imp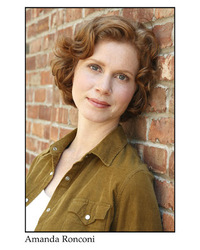 I am an actress, narrator and writer who divides my time between New York City and Upstate New York.  I have a BFA from NYU where I studied at the Stella Adler Conservatory.  I have performed in theaters around New York City as well as regionally at The Alley, Capital Rep and many productions at the Shakespeare Theatre of New Jersey.
My Off-Broadway solo comedy, Shirley at the Tropicana, received critical acclaim and was subsequently featured in The New York Times.  Film and TV credits include Daydream Believer (Slamdance 2001's Best Dramatic Feature winner), The Understudy, Deadly Sins (ID Discovery), IFC's Get Hit and Chasing Paradise. National network and regional commercials include Chase Bank, Sony and Blue Cross/Blue Shield.  My voiceover work encompasses over 70 audiobooks available on Audible.com.
My newest solo show, Kempner, will debut in 2015.
Reviewed by: