Anna and the French Kiss Audiobook
By:
Stephanie Perkins
Narrated by: 
Kim Mai Guest
Published by: Listening Library 10/11/2011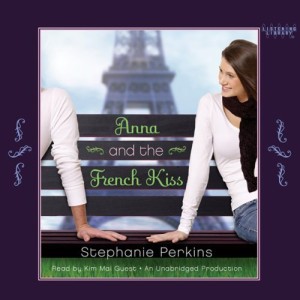 Warm

Anna and the French Kiss Series # 1
10 hrs and 29 mins
Whispersync  for Voice-ready
Anna and the French Kiss Audiobook Sample
Anna and the French kiss
Can a book bring you back to re-live so many emotions you thought forgotten?
Can a cotton candy book hold your heart captive from beginning to end?
Yes! Anna and the French kiss will do just that!
It has been a long time since I've read or listened to a book with my heart and allowed it take me to a place I wouldn't willingly go, but Ms. Perkins beautifully takes you back in the most simplistic way, without over the top emotions or unimaginable sacrifices so often part of a great romance, but with realistic feelings the allows the Anna in all of us to re-experience the first time you fell in love, when love felt so good… It hurt, and its sheer beauty can only be experienced with the absolute and irrevocable surrender of your heart.
Anna and Etienne's story is one of the most satisfying romances I've read or listened to in a long time. There's nothing spectacular or ambitious in their story, in fact, the summary above pretty much said it all, and there isn't much that will stand in the way of a contemporary romance, except the miss understandings, and the fear of forfeiting their hearts, when all along they have already done so.
In an ordinary way, but with extraordinary results Ms. Perkins takes us on a lovelybut emotional ride that never feels cheesy or overdone, and it reminds us the utter sensuality and tenderness behind a simple kiss.
Every time I approach a book with high expectations, I can't help but to fear disappointment, but I've only been left with a giddy feeling of being 17 again and a totally melted heart.
After listening to this book, I'm not only in love with love, but I'm also in love with Paris, both exceptionally viewed through the eyes of seventeen-year-old Anna.
Anna and the French Kiss Audiobook Review
The brilliant performance of Kim M. Guest of Anna's point view leaves you no doubt of the talented writing behind the character, her perfect approach to Anna's personality clearly conveyed all her qualities and emotions, and in the process captures your heart.
Her lovely English accent, tone and manner for Atennie brought him to life in just the way you imagined from Anna's point of view.
The French accent, gave the book the perfect ambiance, and it truly makes you experience Paris with all its romantic glory.
I especially liked the way the emotional undercurrent was kept throughout the entire book.
Ultimately, this was an excellent and worthy delivery of this terrific book.
Well, hello! I'm Stephanie Perkins, and I write novels for teens (and for adults who aren't afraid to admit that teen books are awesome). I was born in South Carolina, raised in Arizona, attended universities in San Francisco and Atlanta, and now I live in the mountains of Asheville, North Carolina.
My best friend is my husband Jarrod. Our house is almost a hundred years old, and every room is painted a different color of the rainbow. We share it with a cat named Mr. Tumnus.
I've always worked with books—first as a bookseller, then as a librarian, and now as a novelist. On weekdays, you'll find me at my desk, typing away, downing cups of coffee and tea. On the weekend, you'll find me at the movies, waiting for the actors to kiss. I believe all novels and films should have more kissing.
One of the most prolific voice actors in the industry.
She has done voice work in five separate animated productions with fellow voice actor Kirk Bailey.
Throughout her career as a voice-over artist, she has worked with Jennifer Hale 24 times, Paul Eiding 12 times, Robin Atkin Downes 9 times, Masasa Moyo 5 times and Armin Shimerman 3 times.
From 1997-1999 she was unable to go by her real name when credited due to SAG stipulations, which led to her using the pseudonym Kim Nguyen when the credits rolled.
During the making of Metal Gear Solid, Guest was the second choice for the role of Mei Ling because the producers balked at hiring Guest who at the time was an inexperienced voice actress to voice such a fairly important role. However the person originally favored for the role botched their final audition so badly Guest ended up getting the role, which is arguably her most famous one to date.
Born in Indianapolis, Indiana.
One of the few cast members of Metal Gear Solid that actually played the game. She progressed as far as Revolver Ocelot before giving up.
Landed her first acting role at the age of 4 where she played a talking mouse in a school play.
Is good friends with fellow "Metal Gear" voice-over artist David Hayter.
Upon winning the role of Mei Ling in Metal Gear Solid, Guest picked up her character's Chinese accent over the course of three days.
Is of Vietnamese and European descent.
Empty tab. Edit page to add content here.
Empty tab. Edit page to add content here.