Dead Reckoning Audiobook
By:
Charlaine Harris
Narrated by:
Johanna Parker
Published by: Recorded Books 05/2011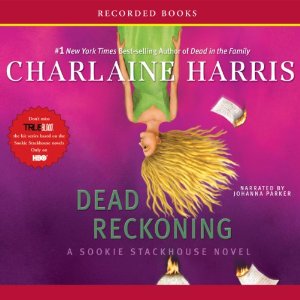 Hot
Southern Vampire Series Book 11
10 hrs and 47 mins
Whispersync for Voice-ready
With her knack for being in trouble's way, Sookie witnesses the firebombing of Merlotte's, the bar where she works. Since Sam Merlotte is now known to be two-natured, suspicion falls immediately on the anti-shifters in the area. But Sookie suspects otherwise and she and Sam work together to uncover the culprit – and the twisted motive for the attack. But her attention is divided. Though she can't 'read' vampires, Sookie knows her lover Eric Northman and his 'child' Pam well – and she realises that they are plotting to kill the vampire who is now their master. Gradually, she is drawn into the plot -which is much more complicated than she knows. Caught up in the politics of the vampire world, Sookie will learn that she is as much of a pawn as any ordinary human – and that there is a new Queen on the board.
Dead Reckoning Audiobook Sample
My Thoughts
Dead Reckoning Audiobook is 11th entry in the Sookie Stackhouse series, and just like all the previous books I had to get this one the day it was released. With these novels, I feel like I know exactly what I'm going to get. While I can't deny, I've liked some books better than others, and even if I won't be putting this one on my favorite's category I still found it very engaging.
The characters' everyday life is mundane, but the magical elements make it exciting, entertaining, interesting, sexy and mysterious,  and it feels personal and familiar thanks to the no-nonsense writing style of Charlene Harris.
Even though I really enjoyed this installment, it felt as it's just a bridge book to the last two left on the series. Don't get me wrong, we still get plenty of action, drama, vampire politics, new discoveries and hints of where the story might be heading.  Bill fans will be very happy with this installment. I won't give anything away, except to say that we get back some of old Bill in this book, and it's good to have him back.
Pam gets a great storyline, besides a sticky situation between her and Eric.
Sookie seems to be doing a lot of soul searching, examining her life, her positions, and questioning in which direction she wants her life to go.
I'm a big fan of Eric… And here I've come to the part I didn't like, I've been left with more question the answers with this book. I can't understand why to create a character larger than life like Eric *♥♥♥♥♥* to have him not be HEA for our heroine.
Sookie and Eric still together in this book, but I'm not feeling it. I can't deny this is the romantic part of me being disappointed after all this is supposed to be a straight Urban Fantasy series, but one the biggest appeals for me was the sexual tension that existed between Sookie and Eric;  I'm afraid that has been gone since Dead In The family.
I approached this book with the understanding and gloomy acceptance that Eric might not be Sookie's HEA (in the world of romance 'happily ever after'). I guess I just have to trust Charlaine to write a good story that will leave me satisfied in the end. If you take all this in consideration, I do recommend this audiobook, after all, you want a book that can take you away, and this book certainly does that.
If you are new to these audiobooks I would definitely recommend starting with the first book in the series, it would be a shame to miss the wild ride and the hours of entertainment these books can bring you.
This installment is again narrated by Johanna Parker, and she's done it again, she definitely brings Sookie to life, she delivers with excellence the straight forward attitude of the character while still keeping the vulnerability and sometimes innocence that Sookie can display, I find myself very entertained by the way Johanna delivers all those funny southern lines, she does such terrific job with Sookie that I have always overlooked the fact that her male voice are just OK.
The Author
Charlaine Harris