Deadlocked Audiobook
By:
Charlaine Harris
Narrated by:
Johanna Parker
Published by: Recorded Books 05/2012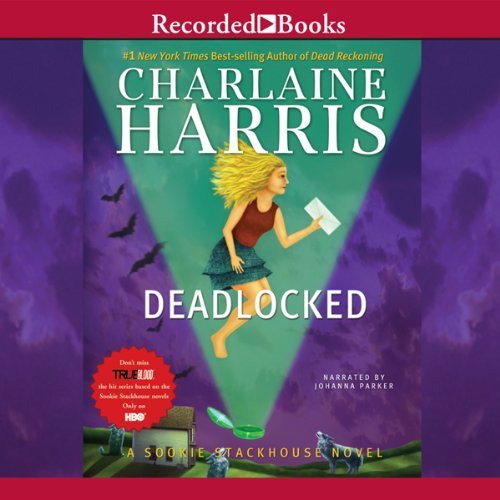 It's vampire politics as usual around the town of Bon Temps, but never before have they hit so close to Sookie's heart….

Growing up with telepathic abilities, Sookie Stackhouse realized early on there were things she'd rather not know. And now that she's an adult, she also realizes that some things that she knows about, she'd rather not see—like Eric Northman feeding off another woman. A younger one.

There's a thing or two she'd like to say about that, but she has to keep quiet—Felipe de Castro, the Vampire King of Louisiana (and Arkansas and Nevada), is in town. It's the worst possible time for a human body to show up in Eric's front yard—especially the body of the woman whose blood he just drank.

Now, it's up to Sookie and Bill, the official Area Five investigator, to solve the murder. Sookie thinks that, at least this time, the dead girl's fate has nothing to do with her. But she is wrong. She has an enemy, one far more devious than she would ever suspect, who's set out to make Sookie's world come crashing down.
Sample
My Thoughts
I had a whole year to get over my disappointment and anger…..Yes! The anger I felt after the last installment, if you've read it, you know exactly what I'm talking about.
I promised myself to make an effort and enjoy the rest of the series just for its mysteries, plot and the real down to earth feeling so brilliantly achieved in spite of all the fantastic creatures that inhabit it…And that is exactly what I did.
From the first sentence read by Johanna Parker, I remembered how much I like Sookie, and even if her destiny turns out to be not what I hoped or invasion, I still very much enjoyed her company.
The solid murder mystery in which Eric  finds himself the center of suspicion  is the heart of the plot, the uncountable amount of suspects and  motivations  were enough to keep my head spinning,  and it was an ample distraction  from the fact that  nothing earth-shattering  happens, and that  this is  nothing more than another episode in Sookie's  life, but nevertheless one that I enjoyed listening to.
The conflicts and drama from her Fay relatives also take a good amount of the story, perhaps taking precious time I would had liked dedicated to her relationship with Eric, but at least we get resolutions and some mysteries are answered as far as they are concerned.
Yes, the end is near, and you unquestionably start to get the feeling. The introduction of new characters might seem to add this late in the series, but I think it's all gearing up to an  epic final  installment (I'm hoping for one).
The cameos from old favorites are always welcome; they again bring more tension and politics to were/shifter world.
Still at this point I'm not sure what will be  Sookie's romantic climax…… And when I think about it stills makes me mad, but as a long time fan of the series I do recommend this entry, I'm most certainly putting it in a better place than Dead Reckoning.
3.62 · rating details ·  2,786 ratings ·  679 reviews on Goodreads
The Author
Charlaine Harris
Narration
Johanna Parker is at this point another character in these novels; this is one of those series where I can't imagine anyone else reading it.  I've always loved the way she portraits Sookie; her voice and tone give Sookie the right mix of vulnerability and breviary. Her pace is flawless, with a credible southern accent she  brings the story to life with the right ambiance perfectly conveying the rural feeling of the setting.
Her male voices are quite adequate and never distracting.
All in all, Johanna Parker once again delivers without disappointment.
Voices behind the books
Johanna Parker