Eternal Hunger Audiobook
By:
Laura Wright
Narrated by:
Tavia Gilbert
Publish by: Tantor Audio 05, 2011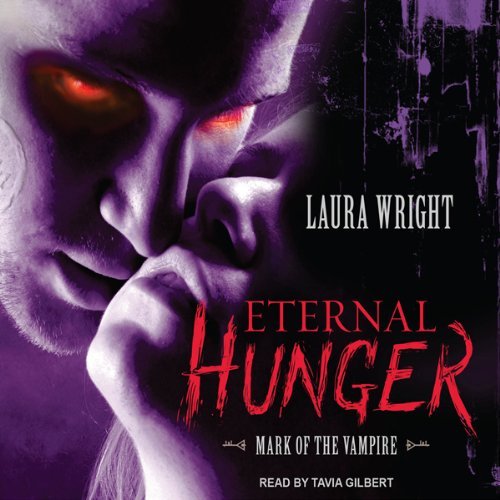 Hot

Mark of the Vampire Series # 1
8 hrs and 59

mins
Whispersync Voice-ready
In the dark, fear and desire are one…. Alexander Roman wants nothing to do with the controlling rulers of his vampire breed or the family he escaped from a hundred years ago. But as a new threat to the pureblood vampires emerges, Alexander's ties to the past are forced upon him again, and without warning, he finds himself – disoriented, terrified, and near-death – at the door of a stranger.

Dr. Sara Donahue is dedicated to removing the traumatic memories of her patients – like those of the stranger at her front door. But what he tells her of his past is too astonishing to believe. Yet she has seen his flesh scarred by the sun and witnessed his inhuman strength. And never before has she felt so connected to a man…. But as their worlds collide, Sara and Alexander are bound by something stronger, as one becomeshunter and the other, prey.

©2010 Laura Wright (P)2011 Tantor
 Review
This series is new to me.  I'd seen several good reviews and decided to gave it a try.  This book has many similarities with the Black Dagger Brotherhood.  The vampires are bred, not turned.  They feed on the blood of the opposite sex.  The vampires are also able to brave the sunlight until after their transition.  They have an enemy that they must fight to protect the more civilized group of vampires who are not the warriors that the brothers are.  These are actual brothers, not the brothers in arms that BDB has.  The enemy is a group of non-purebloods that are kidnapping and impregnating the pureblood women. This story, while strong, is not nearly as good as BDB series, but that is a lot to live up to.
This story was slow to start for me.  It takes a while to figure out how all the characters come together.  Sara is not as strong of a character as I would've liked to have seen.  She is a psychologist who works mostly with patients that have PTSD.  When Sara learns about the world of vampires, she seems to take it a little too quickly for me.  While this did avoid a lot of the dialogue to convince her that vampires are real, it just seemed a little too easy.
Alexander was a great alpha male, even if he seems weak with his transition at the beginning. His past comes back to haunt his thoughts many times in this series.  I think his ability to be a strong alpha male and still have weaknesses, shows a lot of character.  I also like his loyalty to his brothers.
There are also several secondary characters. Lucian and Nicholas are Alexander's brothers, with Alexander being the eldest.  Lucian was a great character.  He had a lot of great sarcastic lines that I loved.  I would be interested in hearing his story.  Nicholas didn't bring as much to the table.  Dillion is another great secondary character.  She was hired by Alexander to watch Sarah when he was not able to be with her.  She is an extremely strong female that doesn't take any crap off the males.  She is another one who I feel has a great story to tell.
There are more bad secondary characters than good ones.  Tom is a former patient of Sara's who is out to get to her.  He is very jealous of her "favorite patient" and wants more of her attention.  He is working with the enemy that the vampires are after, Ethan Dare.  These two bring conflict but do not have a strong influence on the story outside of being villains.  The favorite patient is Gray, her brother who is a catatonic state after a house fire.  He really doesn't bring anything to the story, but I think he has something in the future.
Tavia Gilbert does a great job with the narration, which is no surprise.  She is the same person who narrates the Night Huntress books for Jeaniene Frost.  I think her narration help keep me in this story more than the storyline did.
Overall, this story isn't bad and has the makings of being a stronger series.  I just hope that the world-building and character development grow in future books.  Since I enjoyed some of the secondary characters more than the hero and heroine, it bodes well for this series.  I liked it and will continue the series to see if it gets better.
The Narrator
Tavia Gilbert
Reviewed by: