Kodiak's Claim Audiobook
By:
Eve Langlais
Narrated by:
Chandra Skyye
Published by: Tantor Media 03/03/2015
Hot

6 hrs and 37 mins

Kodiak's Claim Audiobook Sample
Hands full taking care of his clan, the last thing Reid Carver needs is a woman poking her cute little nose into his affairs. But when Tammy refuses to back down – and shows the courage to stand up to him – he can't resist the allure of the curvy city girl. And when a rival clan thinks to use her to force his paw, he'll show them why you never piss off a Kodiak or threaten what's his.
Tammy is convinced that all men are scum, even gorgeous ones like Reid. She knows he's hiding something – something big. She just never expected a real bear hiding underneath all those yummy muscles. But when the truth comes out, and he tries to scare her off with a roar, she shows him that it's not just bears who have bite.
©2014 Eve Langlais (P)2015 Tantor

Kodiak's Claim
4 Hearts
I read Kodiak's Claim when it first came out in ebook format in 2014. I'm a fan of Eve Langlais and have read her books in the past. I'm also a fan of shifters. When I heard that this series was available on audio, I jumped at the chance to revisit book one in this series on audio (note, I had just finished reading the last book in this series).
Reid is former military and is now acting as alpha of Kodiak Point, a small town in rural Alaska. This town is filled with a group of mixed species of shifters. Many of the guys are from Reid's former military unit, a unit made up entirely of shifters.
Recently, the town's shipping business has had a run of bad luck. Many of their trucks have gone missing. When the insurance company sends newly single Tammy to investigate, things are heated up to a new level.
There are many things I love about this series and this book. I love that Tammy is an overweight woman who loves food and is okay with her extra pounds. I love how she leaves her boyfriend at the start of the book, using his possessions as fuel to grill herself a steak. She is a tough city girl who isn't going to let the wilds of Alaska scare her. She even goes after a Kodiak bear with a cast iron skillet, little does she know that the bear is actually Reid.
Reid is not one of my favorite heros of the series, but he isn't bad. He falls for Tammy and not once does he mention her weight as a bad thing. He even mentions a few times that he isn't interested in twigs. We do meet a few of the other characters and future heros and heroines of the series. Outfoxed by Love, book two, features Boris, a moose shifter who has quite a fascination with his rack. Jan, is a wiley artic fox with a love of firearms.
Kodiak's Claim Audiobook Narration
2 Hearts
As much as I love this Kodiak's Claim, the narration leaved something to be desired. I don't think that Chandra Skyye was the right narrator for this series. I felt like her narration really left a lot of the humor hanging. Some narrators can really pull off the snarkiness of characters and Skyye just wasn't that narrator.
I thought that the voices were okay. Travis, who is in his early twenties, sounded like he was closer to fifteen. This does bother me a little, as he is the last hero of the series. I don't know that I will enjoy listening to a hero who sounds so young.
The pacing was fine, but the tone could've used some work. I'm going to try the audiobook for Outfoxed by Love, which is one of my favorites to see if she gets better as the series go on.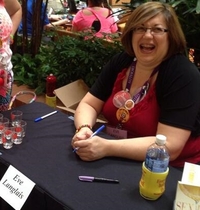 Hello, my name is Eve Langlais and I am an International Bestselling author who loves to write hot romance, usually with werewolves, cyborgs or aliens .
I should warn you, I have a twisted imagination and a sarcastic sense of humor something I like to let loose in my writing. While well known for my shifter stories, I am also extremely partial to aliens, the kind who like to abduct humans and then drive them insane…with pleasure. Or do you like something a little darker, more serious? Then check out my cyborgs whose battle with humanity have captivated readers worldwide.
Chandra Skyye
Chandra Skyye loves bringing characters and stories to life through voice acting and singing the blues. A lover of life, she spends her spare time being creative, appreciating nature, and sharing fun times with nice people and good dogs.