Reckless Audiobook
By:
Anne Stuart
Narrated by:
Susan Ericksen
Published by: Tantor Media 03/2011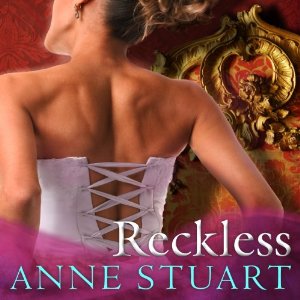 HOT
10hrs and 30mins
Adrian Alistair Rohan lost his faith, and now, a dedicated member of the depraved Heavenly Host, he loses himself in his only pleasure: the seduction and debauchery of beautiful women. Rich, charming, and devastatingly skilled in the arts of love, he never fails in his conquests… until Charlotte Spenser.

Charlotte is facing a desolate, passionless future, none of which matters to Adrian, who imagines her a toy until better prey arrives. But beneath her drab exterior, Charlotte is a woman as enchanting as she is brilliant, and, lured into Adrian's world, she soon becomes the seducer and he the seduced.
My thoughts
This is the second entry to the series House of Roham, and it continues with the story of Francis and Elinor's second son Adrian Rohan, and as we can see the apple doesn't fall far from the tree. Adrian Rohan is following in his father's old footsteps, enjoying his bachelors life as a rich, arrogant, and debauched male, until he meets Charlotte, a proper and modest spinster at a mansion where parties/orgies are conducted. Adrian is tired, and a bit bored with his typical women (beautiful and experienced), so he finds himself to be lusting after Charlotte, who has been in love with him for the last three years, but someone he never thought he could develop feelings for…. oh! But he does!
With this, we get the typical story of the seducer being seduced; this plot it's been done so many times that I found myself very surprised at my level of my enjoyment, Adrian and Charlotte's mockery is fun to listen to, each character is strong enough to hold their own appealing details, and maybe is just the way Anne Stuart knows how to get you in her character's head or the way she manages to match the most unlikely people.
The secondary romance between Lina, Charlotte's beautiful cousin and a Vicar, was unexpected and very good.
The sex scenes are greatly more graphic than the previous book, but it doesn't feel as dark, (I myself prefer a little darkness) so if you don't expect a groundbreaking novel and just want to spend a few hours lost in a fantasy, romance, hot passion a little ofangst, a little bit of naughtiness, and a well written Romance, then you will positively enjoy this book.
I think I would have liked this installment a lot more, had I had listened to a few different books in between this one and Ruthless, so I don't recommend listening back to back, to me these books are much more appreciated in small doses.
4.32 stars based on 63 ratings on audible.com
3.87  ·  rating details  ·  1,775 ratings  ·  211 reviews
Narration
I truly believe a narrator can destroy a good book or can make an OK book into an incredible listen; it  has never been more the case than with the performance by Susan Erickesen with these novels, she definitely brings these books to a higher level. She is just perfect;  her clean British accent gives the story the right feel and,  wow! The way she brings the sensuality to life is just brilliant!! You can truly feel the sizzle between Adrian and Charlotte.
The distinctions of the voices are very clear,  she's a pro at delivering the wit and humor of the dialogue.
All in all this is another fantastic read by Susan Ericksen
The Author
Anne Stuart
For a more detail review of the plot visit: