The Darkest Secret Audiobook
By:
Gena Showalter
Narrated by:
Max Bellmore
Published by: Harlequin Enterprises LTD 04/2011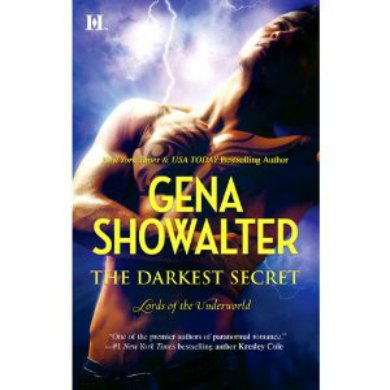 12 hrs and 43 mins
Keeper of the demon of Secrets, Amun can manipulate the darkest thoughts of anyone nearby. But when new demons possess him, the immortal warrior must be chained and isolated to protect those he loves. Death is his only hope of release—until he meets Haidee, a fellow prisoner whose beauty and hidden vulnerability draw him into a reckless test of his loyalty…. Haidee is an infamous demon assassin, raised to despise Amun's kind. Yet how can she hate the man whose touch sets her aflame? But to save him, she must give herself body and soul…and face the wrath of a powerful adversary sworn to destroy her.
Sample
My Thoughts
It's almost time for the new entry to one of my favorite series, LORDS OF THE UNDERWORLD, and in preparation for this event (yes! This is an event for me) I just had to do a re- listing of The Darkest Secret, the seventh,and previous installment in this series.
With hardly a chance to take a breath this book immediately takes off amidst the turmoil and suspense from the previous book, the Darkest Lie.
In a brilliant way, Ms. Showalter managed to deliver a clever  story about a character that to be honest, I wasn't too excited about, but  has moved to the " I love this hero" category, after this addition.
Although Amun, the protagonist and focus of this novel, has been in the background since the beginning of the series, we never got an in-depth picture of his character. As the keeper of the demon of  secrets, afraid of voicing and consequently harming others with his revelations, he has always guarded his speech, (he never talked) this made me wonder if  his story  could be told in a credible and realistic way.
Ms. Showalter continues to showcase her talent  with the creation of yet another ingeniously built, smart and cohesive plot, one the most definitely worked that combined with all the elements we love in PR  make this  a "do not miss" addition.
The romance between Amun and the old arch enemy Haidee is perfectly tinted with the right amount angst where redemption plays a big role, ultimately bringing the right combination of drama and sensuality to the enjoyment of their story.
The continuation of the sub-plots, the hints to where the rest of the character's life may be heading; Paris, William and Stride to mention a few, add plenty of action, anticipation and suspense to this multifaceted and never boring world.
I highly recommend this series to all Romance Paranormal fans, what else can you ask from a series that consistently brings you delicious alpha males with female counterparts that give as good as they get, engrossing drama, the right dose of humor and the perfect amount of mayhem to bring in focus  the dangers of this world.
This entry is a  clear reminder of why we love Gena Showalter.
Narration
Max Bellmore's terrific interpretation of this series is absolutely perfect; he performs these novels with the perfect amount of emotion. His deep and sexy voice is ideal for the portrayal of this fantastic collection of alpha heroes. Each character is performed in a unique manner, giving each individual his own tone and personality.
I categorically love the way Mr. Bellmore conveys the suspense, drama and sensuality of these novels.  As good as these books are in print, I assured you, they are that much better on audio.
The Author
Gena Showalter
For a more detailed review  of the plot visit: