Unclaimed Audiobook
By:
Courtney Milan
Narrated by:
Polly Lee
Published by:Harlequin Enterprises, Ltd 10/2011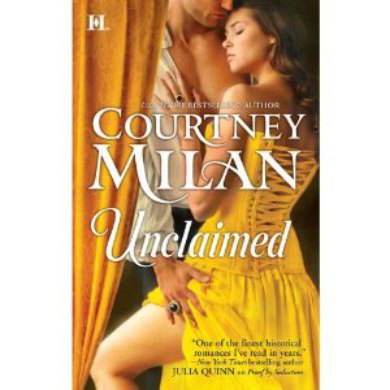 Hot
11hrs and 16mins
Her only hope for survival….
Handsome, wealthy, and respected, Sir Mark Turner is the most sought-after bachelor in all of London—and he's known far and wide for his irreproachable character. But behind his virtuous reputation lies a passionate nature he keeps carefully in check… until he meets the beautiful Jessica Farleigh, the woman he's waited for all his life.
But Jessica is a courtesan, not the genteel lady Sir Mark believes. Desperate to be free of a life she despises, she seizes her chance when Mark's enemies make her an offer she can't refuse: seduce Mark and tarnish his good name, and a princely sum will be hers. Yet as she comes to know the man she's sworn to destroy, Jessica will be forced to choose between the future she needs… and the love she knows is impossible.
Reviewed by Terra Lyne
There are a million things I love about this book. A beautiful, strong and virtuous man, a courtesan with a "shameful" past, a vow of celibacy, a million chances to break that vow and a town full of hypocrites and an opening line of: "Sir Mark Turner did not look like any virgin Jessica had ever seen before." I was hooked.
I fell in love with Mark Turner in Unveiled. He is wonderful and confident. A man who stands by his principles…principles he formed because he believes in something whole-heartedly (not because of society or religion). I looked back at my review of Unveiled. When I finished reading it, I said something about wanting a book about Mark. How Lucky for me…it's a great storyand I was NOT disappointed!! Jessica Farleigh is a woman with a past that is heart-breaking. You see glimpses of it from the beginning. Miss Milan does a beautiful job peeling back the layers to reveal the reasons behind Mark's vow and Jessica's fears. And the sexual tension??? Wowzers! Just….wow. Loved it! While it is a total page-turner through the first half, it gets a bit slow near the middle. Then it turned around near the end and had me enthralled all over again. This will most likely be one of those novels that I end up listening to more than once.
VERY brief summary: Sir Mark Turner (knighted because of his brilliant book about celibacy for gentleman) retreats to the town of his youth to escape the madness of his new-found fame. Well, his book has a cult following and what began as a getaway turns into a farce. Jessica Farleigh is in dire straits. She is in need of funds and decides to cash in on a reward offered to anyone who can "unseat" Sir Mark from his high-and-mighty throne. They meet. He doesn't care about her seedy past, he likes her and wants to be her friend. This notion baffles Jessica. She feels she is not worthy of his respect. The more time they spend together, the closer they become. Jessica finds that it is becoming increasingly difficult to betray his trust and Mark's vow has him in knots and he experiences temptation beyond any he's ever encountered before. A lovely story unfolds and they both find their happily ever after….or do they?
After listening to a contemporary romance, the narration seemed a bit sloooww at the beginning. But I absolutely got used to the pace and found myself really enjoying Polly Lee. Her characterizations are spot on and I melted into her story telling. (now that I think about it, I wonder how many times I sighed audibly while listening…or spaced out with a goofy grin on my face) In my opinion, this is a keeper and one you may want to consider owning.
4.10  ·  rating details  ·  169 ratings  ·  86 reviews   on Goodreads 
The Author
Courtney Milan