Angel's Blood Audiobook
By:
Nalini Singh
Narrated by:
Justine Eyre
Published by: Tantor Audio 05/07/2010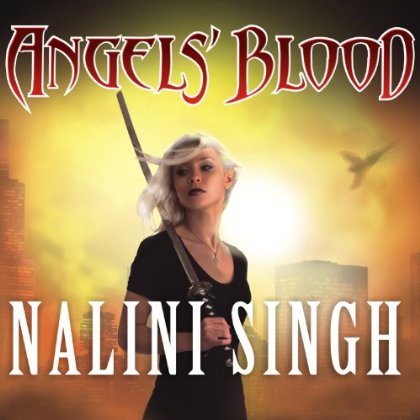 Hot
10 hrs and 22 mins
Whispersync  for voice-ready

Vampire hunter Elena Deveraux knows she is the best – but she does not know if even she is good enough for this job. Hired by the dangerously beautiful archangel Raphael, a being so lethal that no mortal wants his attention, Elena knows failure is not an option – even if the task is impossible. Because this time, it's not a wayward vamp she has to track. It's an archangel gone bad.
The job will put Elena in the midst of a killing spree like no other – and pull her to the razor's edge of passion. Even if the hunt does not destroy her, succumbing to Raphael's seductive touch just might. For when archangels play, mortals break.
©2009 Nalini Singh (P)2010 Tantor

Angel's Blood Audiobook Sample
Guest Reviewed by Melissa M.
My Thoughts
Elena Deveraux is a vampire hunter that works for The Guild. She is hunter-born, and was born with abilities that help track down vampires. Her specific ability is being able to track vampires by scent, even those newly turned. I should mention that her job isn't to kill vampires, it's to locate and bring them back to the angels they belong to. This definitely isn't the easiest job to do, yet Elena excels in it. I enjoyed reading her character, she's a strong woman and isn't afraid to tell it like it is.
Raphael is an archangel that is both beautiful yet deadly. He rules with an iron fist, and I was slightly worried for Elena when she was hired to track down an archangel on a killing rampage. Only another archangel can kill one of their kind, so I had my doubts that Elena would walk out of this book unscathed, even though there are several books in the series. Raphael is pure alpha male in angel form. In between all the tracking, Elena and Raphael are slowly building more and more tension. I was curious to see if this would be a relationship, or if it would eventually lead to one later in the series.
I'm usually not a big fan of angel books, but I knew I had to try this out and step a bit out of my comfort zone. I'm so glad I did, this book exceeded my expectations and the world building is excellent. It reminds me a bit of Buffy the Vampire Slayer, Elena is born with the ability to hunt vampires and is a pro at her job. I recommend this book for anyone that enjoys Urban Fantasy with a touch of Paranormal Romance.
Angel's Blood Audiobook Narration
My review
Justine Eyre, the narrator for Angels' Blood was a step out of my comfort zone. I've only listened to one series specifically via audiobooks so I hadn't experienced any other narrator. She was easy to listen to and I was able to stay focused which has been an issue I've had in the past. The male characters's voices were executed nicely, I could differentiate the characters without wondering who was speaking. There is a character or two that has an accent, and I didn't notice any issues with the accent slipping or it sounding odd to me. I'm a new fan of Justine Eyre's narration, and will be listening to more of her work in the near future.
Nalini Singh born in Fiji and raised in New Zealand. I also spent three years living and working in Japan, during which time I took the chance to travel around Asia. I'm back in New Zealand now, but I'm always plotting new trips. If you'd like to see some of my travel snapshots, have a look at the Travel Diary page (updated frequently).
So far, I've worked as a lawyer, a librarian, a candy factory general hand, a bank temp and an English teacher and not necessarily in that order. Some might call that inconsistency but I call it grist for the writer's mill.
Justine Eyre is a classically trained actress who has narrated over two hundred audiobooks. With a prestigious Audie Award and four AudioFile Earphones Awards under her belt, Justine is multilingual and is known for her great facility with accents. She has appeared on stage in leading roles in King Lear and The Crucible, and has starring roles in four films on the indie circuit. Her recent television credits include Two and a Half Men and Mad Men.
Audiobooks:  Tantor Audio Audible