As You Wish Audiobook
Inconceivable Tales from the making of The Princess Bride
By: Cary Elwes, Joe Layden, Rob Reiner

Narrated by: Cary Elwes, Christopher Guest, Carol Kane, Norman Lear, Rob Reiner, Chris Sarandon, Andy Scheinman, Wallace Shawn, Robin Wright, Billy Crystal.
Published by: Simon & Schuster Audio 10/14/2014
As You Wish Audiobook Publisher's Summary

7 hrs and 1 min

As You Wish: Inconceivable Tales from the making of The Princess Bride
My Thoughts
The Princess Bride is one of my all-time favorite movies, so I jumped at the chance to review As You Wish. After listening, I have an all new appreciation for the amount of work that these actors, actresses and crew did to make this a great movie.
It starts off with Cary talking about his love of the book as a child. It is discussed about the fact that no studio wanted to make this movie. Robert Redford was listed as a director for it at one point, but couldn't get the studio to go through with it. When 20th Century Fox told Reiner he could do whatever he wanted, except make that movie. Reiner did eventually pull it off and did a great job with with it.
This book is mostly told from Cary Elwes point of view, but there are parts where others on the cast, crew and even the author, William Goldman, who is also the script writer. It is great to see all the different points of view about different situations that happened on set.
There are as many great behind the scenes stories as their are great points and lines in the story. I don't think I could any more pick a favorite behind the scenes story that I could pick my favorite line in the movie.
Some of the best stories were about Andre the Giant, who was such a fun loving and gentle man, even if he did terrify people as much as he charmed them. These stories are as sad as they are funny, because he wasn't available to put his take on the situation.
The story of filming Miracle Max was a great chapter. This shouldn't come as a huge surprise, with Billy Crystal being involved. Reiner couldn't even be on set for most of the filming because he would laugh out loud and ruin the takes.
I loved this movie before, but I think I love it even more now. I think this book is a must read for any Princess Bride fan. This more than most, I highly recommend listening to the book, as opposed to reading, because you can really hear the passion that everyone has for this movie as each person remensises.
If you haven't seen the movie, then I suggest you watch it today. It is a movie that has it all, fairytale love story, swordfights, a pirate, a giant, death, the Fireswamp with ROUSes, the Pit of Despair and more. This is a movie that has stood the test of time, even as it was a disappointment in theaters. It wasn't until people started buying VHS tapes of it that it became the classic that we all know and love.
As You Wish Audiobook Sample
As You Wish Audiobook Narration
My review
The narration was wonderful. Listening to Cary Elwes recount him auditioning for the part of Westley, meeting Robin Wright who plays Buttercup, the amount of work he put into learn to fence so that the swordfight with Mandy Patinkin did look like the greatest swordfight of modern times. It is all wonderful. When I first started to listen, my first thought was, "Because, unlike some other Robin Hoods, I can speak with an English accent." Yes, I'm aware that is the wrong movie, but it is the right actor.
Many of the cast and crew read their own takes as to how they felt about the making of the movie. Rob Reiner does a lot recounting and it was great to hear his passion about the book and movie all these years later. There are a few people who were not able to make the reading, so they had to have someone read for them.
As with Cary, when Carol Kane would talk, I could picture her in makeup, "I'm not a witch, I'm your wife.". I was amazed at listening to Wallace Shawn talk about how worried he was about his part in the movie and the Reiner makes him film the Battle of Wits scene the first day.
Cary Elwes was born in Westminster, London, England, the third son of interior designer/shipping heiress Tessa Georgina Kennedy and the late portrait painter Bede Evelyn Dominick Elwes. He is the brother of producer/agent Cassian Elwes and artist Damian Elwes. He was raised in London and attended Harrow. After graduating from Harrow, he moved to the US and studied drama at Sarah Lawrence College. He left school after two years to begin his film career. Cary is well respected by colleagues and fans alike and considered by many to be one of the finest young actors working today.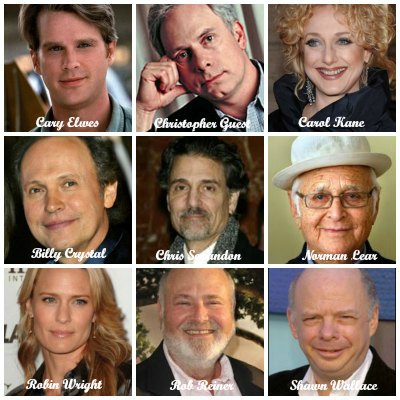 Narrated by: Cary Elwes, Christopher Guest, Carol Kane, Norman Lear, Rob Reiner, Chris Sarandon, Andy Scheinman, Wallace Shawn, Robin Wright, Billy Crystal.
Empty tab. Edit page to add content here.
Empty tab. Edit page to add content here.
[ivf frame="imac" orientation="ver" iphone_color="S" ipad_color="B" slider_autoplay="1″ slider_pause_on_hover="1″ slider_onstage="4000″ slider_arrows="0″ slider_progress="1″ icon="arrow75″ icon_color="#98684d" play_animation="1″ play_shadow="1″ play_size="play_large" video_url="https://www.youtube.com/watch?v=uWPSgws41rk"]