The Indiscretion Audiobook
By:
Judith Ivory
Narrated By:
Barbara Rosenblat
Published by: Recorded Books 01/07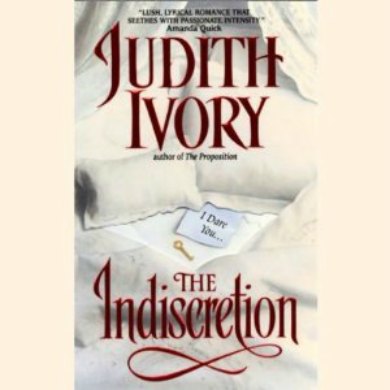 The elegance, warmth, wit, and emotional intensity of award-winning author Judith Ivory's superbly romantic tales are unsurpassed. Now, in her most dazzling novel yet, she transports the reader to the ruged moors of England to celebrate a love that is daring, passionate….and most indiscreet.

Daring To Love

Lady Lydia Bedford-Browne's small rebellion becomes the adventure of her life, when her coach crashes and leaves her stranded on the treacherous Dartmoor with the only other passenger: a rugged, disarmingly attractive Texan named Sam Cody. Sam's slow, melodic drawl and dark, hypnotic eyes tempt Lydia in ways she never thought possible. But dare the lord's daughter loosen her proper English restraints any further?

Foul luck has caused the dashing American millionaire to miss his own wedding to an unforgiving bride…for the second time!Worse still,he's stuck in the middle of nowhere with a straight-laced noble beauty. But there is an unmistakable spark of courage, sensuality, and wild passion beneath Liddy's prim exterior, daring Sam to pursue even further what his heart and his soul now desperately desire — even though both the Texan's and the lady's vastly different worlds will be rocked if they dare surrender to…The Indiscretion
Sample
Reviewed By Lisa Kay
I tried this one to fulfill a challengeand I'm thrilled to find a wonderful "new-to-me-author." (Can you believe, even with all the romances I've read, I haven't read any of her work? It won't be my last!) Well narrated by Barbara Rosenblatt; I don't think I've heard her before, and she did a great job on Sam's voice and cowboy accent.
Dartmoor is now a protected area of moorland in south Devon, England. 
The book is in two parts and the first ー where they are trying to survive on the Dartmoor ー is definitely a ★★★★★ read over the second part ー it's funny, lighthearted, sensual, and you can seegrowth in Lidia and the reasons why Sam is falling in love with her. Unlike other reviewers who felt Lidia was too cold in the first and shrewish in the second parts, I liked her. Maybe Ms. Rosenblat's reading made Lidia sound warmer and more like a young lady in search of freedom and adventure with a perplexed tone toward Sam rather than snobbish English aristocrat. In the second part I don't think Lidia was the only one dishing it out; Sam did his fair share. Again, maybe this just came across better in the audio than on the written page. Nevertheless, I agree The Negotiation wasn't as good as the The English Moor.
3.78 · rating details · 201 ratings ·  21 reviews on Goodreads
The Author
Judith Ivory
Voices behind the books
Barbara Rosenblat