Beyond Control Audiobook
By:
Kit Rocha
Narrated by:
Lucy Malone
Published by: Tantor Audio 02/11/2014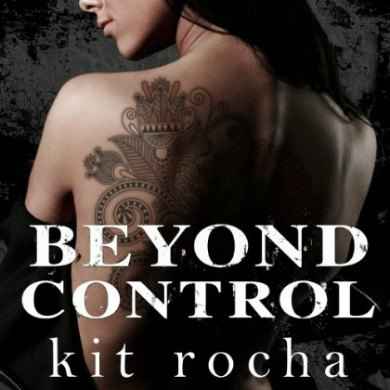 Beyond Control Audiobook Sample
Alexa Parrino escaped a life of servitude and survived danger on the streets to become one of the most trusted, influential people in Sector Four, where the O'Kanes rule with a hedonistic but iron fist. Lex has been at the top for years, and there's almost nothing she wouldn't do for the gang…and for its leader. Lie, steal, kill – but she bows to no one, not even Dallas O'Kane. Dallas fought long and hard to carve a slice of order out of the chaos of the sectors. Dangers both large and small threaten his people, but it's nothing he can't handle. His liquor business is flourishing and new opportunities fuel his ambition. Lex could help him expand his empire, something he wants almost as much as he wants her. And no one says no to the king of Sector Four. Falling into bed is easy, but their sexual games are anything but casual. Attraction quickly turns to obsession, and their careful dance of heady dominance and sweet submission uncovers a need so deep, so strong, it could crush them both.
©2013 Kit Rocha (P)2014 Tantor

Beyond Control
This is book two in the Beyond series, a dystopian erotica series by Kit Rocha. In Beyond Control, we have the story of Dallas, the king of Sector Four and Lex who has been the unofficial queen of Sector Four. Here we have Lex really coming into her own and becoming the official queen of the sector. It starts with a typical Dallas Sector Four sex party. Then Lex and Dallas going to Sector Two to meet with all the sector leaders. There is no leadership in Sector Three and something has to be done about that, this meeting is to determine how to handle it.
In Beyond Control, we see two alphas really come together in a great relationship. Dallas is used to everyone bending to his will, especially anyone he takes as a bed partner. Dallas is a dominate at heart and doesn't know how to give. Lex is the same, but she wants to give to Dallas. He must learn when she is able to submit and when it isn't in the best interest of not only Lex but the sector.
The dynamics between the two and how they learn how they have to come together is a great story. The secondary characters are much more in the background of this story, compared to book one. They do have a part in Beyond Control, just not as much as in Beyond Shame.
Beyond Control takes the partying to a whole new level. The sectors are darker, more violent, sweaty and even more sexy that book one. The worldbuilding is some of the best I've ever read. The passion between these two strong alphas is a thing to behold. To watch their story come together was a lot of fun.
While Beyond Control could be read/listened to as a stand alone, I would recommend picking up Beyond Shame to get a better understanding of the world and the characters. I would check the prices of the Kindle versions of the books and then purchase the Audible versions. I got Beyond Shame audio for $2.99 after getting the free Kindle. Double check to be sure that the prices on sale, I can't confirm that the Kindle prices are still discounted.
Beyond Control Audiobook Narration
My thoughts
The narration is good. Lucy Malone does a good job with each of the different characters. I don't think she does a bad job with the men. She makes Noelle's innocence sound believable. Lex has a very strong voice to her, along with Dallas. Each character has a distinct voice that fits their personality well.
Kit Rocha is the pseudonym for co-writing team Donna Herren and Bree Bridges. After penning dozens of paranormal novels, novellas and stories as Moira Rogers, they branched out into gritty, sexy dystopian romance.
The series has appeared on the New York Times and USA Today bestseller lists, and was honored with a 2013 RT Reviewer's Choice award.
Lucy Malone has narrated dozens of audiobooks and is one of the most sought-after voices for erotica narration. A number of her titles are consistent bestsellers on Amazon and Audible, and she has been described as having "the best voice in the biz."
Reviewed by: