Burn For Me Audiobook
By:
Ilona Andrews
Narrated by:
Renée Raudman
Published by Harper Audio 10/28/2014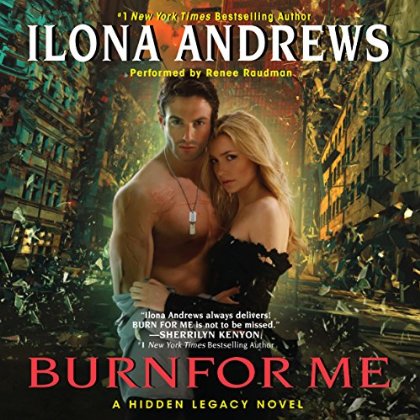 Warm (adult content)

12 hrs and 45 mins
Nevada Baylor is faced with the most challenging case of her detective career – a suicide mission to bring in a suspect in a volatile situation. Nevada isn't sure she has the chops. Her quarry is a Prime, the highest rank of magic user, who can set anyone and anything on fire.
Then she's kidnapped by Connor "Mad" Rogan – a darkly tempting billionaire with equally devastating powers. Torn between wanting to run and wanting to surrender to their overwhelming attraction, Nevada must join forces with Rogan to stay alive.
Rogan's after the same target, so he needs Nevada. But she's getting under his skin, making him care about someone other than himself for a change. And, as Rogan has learned, love can be as perilous as death, especially in the magic world.
©2014 Ilona Gordon and Andrew Gordon (P)2014 HarperCollins Publishers

Burn For Me Audiobook Sample
Burn For Me
My Thoughts
Let me start by saying, Burn For Me, is so much more than that cover! I'm afraid a lot non-romance UF fans might stay way from this amazing listen, thinking this is just a "sappy romance" Oh… But they would be wrong…So wrong!
In a world where magic is the most covet commodity and the ultimate ranking for social status, we get introduce to a run off the mill Private Investigator, Nevada Baylor, at the time when she is about to embark in a case that's way above her head and expertise – thanks to the forceful insistence of a powerful individual.
Until now, Nevada's firm has only handled small fraud and cheating spouse cases, but the case in hand will demand extraordinary measures that will reveal an extraordinary heroine.
With the magnitude of this case Nevada will have to put to use her magical talents, those which she has kept secret in order to live a normal life. And as she embarks in this dangerous task, we get to take a ride in another magnificent creation, where mystery, humor, action, danger, politics and exquisite SEXUAL TENSION fill our next 12 hours.
Nevada is strong, caring, vulnerable the right way and a smart girl who displays all the qualities that make us love a heroine.
When her pass crosses with Mad Rogan's, a magical elite, who happens to have a stake on the investigation, challenging but interesting alliances begin to form.
Mad Rogan is a character that could very well fit in a contemporary romance setting. He's flawed, wealthy, ruthless, a bit of a psychopath, a control freak and a very powerful individual – The kind of alpha I hate to love, and the kind that triggers my curiosity.
As the investigation continues, and as we get introduced to other characters, we begin to dig deeper in a plot that despite its urban setting fully transports you to the world within.
The banter between the protagonists layers the story with a subtle sexy romance current that doesn't distract from the mystery and the events at hand. The story leaves us anxious for more from these characters as well as the world in general.
I found the plot refreshing, original, captivating, but best of all, skillfully carried out! Nothing less than what I expected from this duo.
There's a reason Ilona Andrews is an auto-buy for me, and Burn For Me keeps them secured in that list.
If you're a fan of Ilona Andrews' writing, this book should be already in your Audiobook library….Yes sir! Is that good!
Burn for Me is a must for all UF fans.
Burn For Me Audibook Narration
My review
I'm a huge fan of narrator Renée Raudman. She's fantastic with every genre; she has no difficulties in bringing a meet-cute romance as well as a nail-biting suspenseful listen to life with full credibility.
I can't imagine any other narrator who would be me more appropriate to perform this material despite running the risk of sounding a little too close to the other Author's novels, in this case, Kate Daniels.
I'm always a little nervous when the same narrator is going to read a new series from the same author. I can't help being afraid about the voices being too close to the previous characters and not believing this is a fresh interpretation.
Well, my fears in this case were totally unfounded. In just in a few minutes of listening Ms. Raudman became Nevada Baylor and Mad Rogan, and I immediately got transported to a world of magic in Huston, Texas.
Even with some familiar voices I never felt in any world out of the one in hand.
If Burn For Me will be your first experience with narrator Renée Raudman, you're in for a treat! Her interpretations always match the awesomeness of Ilona Andrews material.
Ilona Andrews is the pseudonym for a husband-and-wife writing team. author2smIlona is a native-born Russian and Gordon is a former communications sergeant in the U.S. Army. Contrary to popular belief, Gordon was never an intelligence officer with a license to kill, and Ilona was never the mysterious Russian spy who seduced him. They met in college, in English Composition 101, where Ilona got a better grade. (Gordon is still sore about that.)
Gordon and Ilona currently reside in Texas with their two children, and many dogs and cats. They have co-authored two series, the bestselling urban fantasy of Kate Daniels and romantic urban fantasy of The Edge.
Renée Raudman is a multi-award-winning audiobook narrator. A multiple Audie Award nominee, she has earned a number of AudioFile Earphones Awards, including for The Last Secret by Mary McGarry Morris and Wesley the Owl by Stacey O'Brien, as well as a Publishers Weekly Listen-Up Award for Joe Schreiber's Chasing the Dead. She has also performed on film, TV, radio, and stage, including the recurring roles of Jordon on ABC's One Life To Live, Phyllis on NBC's Passions, and guest-starring roles on prime-time TV. She has been heard in cartoons (The Simpsons, Billy & Mandy), videogames, and on the E! channel. Her narration of Homer's Odyssey by Gwen Cooper was selected by Library Journal as one of the best audiobooks of 2009, and her reading of Marthe Jocelyn's Would You was selected by the ALA as one of the best young adult audiobooks of 2009.