City of Eternal Night Audiobook
Narrated by:

Elijah Alexander
Published by: Hachette Audio 12/02/2014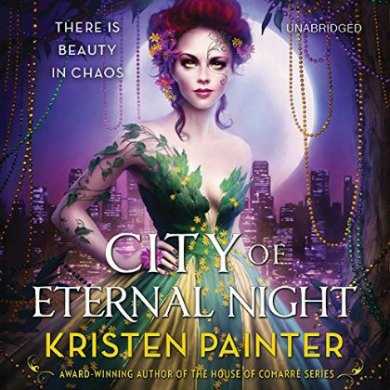 Hot

12 hrs and 25 mins

Still coming to terms with their unexpected partnership, Augustine and Harlow have a tentative truce. Although with Harlow slowly working to accept being fae, Augustine still learning how to be Guardian, and feelings growing on both sides, they do not have an easy road ahead.
But when a young girl is stolen from the Mardi Gras Exemplar Ball – the biggest fae event of the year – Harlow and Augustine must put all their issues aside to bring her home alive. Harlow's father, Branzino, is of course their number one suspect, but evil lurks in every corner of the city and time is running out. Their only choices: Either find a way to rescue the girl, or Augustine must die.
©2014 Kristen Painter (P)2014 Hachette Audio

City of Eternal Night Audiobook Sample
City of Eternal Night
My Thoughts
I really was excited to get this audiobook after finishing House of the Rising Sun earlier this year. I love the world that this series is set in. I love the fae characters, especially Augustine. They are different from some of the other fae books that I've read in the past. We continue to learn more about the fae in this world of New Orleans of the future. Because it is the future, there is some pretty nifty technology, including contacts that have facial recognition software.
When I listened to House of the Rising Sun, I really disliked Harlow. She was a selfish brat. While she is trying hard to be a better person in City of Eternal Night, I still had a hard time liking her in this book. She wants to help with the case that Augustine is working on, and I admire her for overcoming her fear of being fae and accepting her gifts. But she makes some really stupid decisions that are going to affect others around her. She is still very naive when it comes to the fae world, but does show promise. At least she wants to learn and come to terms with the fact that she is fae.
Augustine. *sigh* I just love him. Normally I tend to lean towards bad boys or the very alpha men, but with Augustine, he is just such a good guy. As guardian, he is always putting everyone else first. The only downside to this is he didn't pay enough attention to Harlow. While the issues that had his attention were very important, Harlow, being new to the fae world, also needed his help. I think if he had be paying more attention to her, he might have been able to prevent some of Harlow's bad decisions.
This series continues to deliver a unique world with intriguing characters. We also get to spend some time with the villains POV. That brought some really interesting aspects to the plot. We have many of the same characters from book one and some new ones that add a lot to the plot. We even get to see a little bit of Chrysabelle and Mal from House of Comarré series, but don't worry if you haven't read that series, this series is less spin off and more just set in the same world with a few cameo appearances. Slight warning about this book, it does end with a cliffhanger. Luckily, the next book, Garden of Dreams and Desires, comes out in April.
City of Eternal Night Audibook Narration
My review
After listening to House of the Rising Sun, I knew what to expect with the narration for City of Eternal Night audiobok. While I don't think Elijah Alexander will ever be one of my favorite narrators, I'm getting used to him for this series. He does like to do accents and they really don't match the characters, but it does make each character very distinct.
His male and female voices are very distinct, though once again, the accents leave something to be desired. I always know which character is talking, which is really important to me. He has become the voices of these characters for me. This will be an audio only series for me with this narrator.
A little about me: I'm a former college English teacher, but I've held a crazy mix of other jobs including maitre'd for Wolfgang Puck, personal trainer, and sales for Christian Dior Bijoux. On the writing side of things, I'm a two-time Golden Heart finalist and have been on the board of three different RWA chapters. What can I say? I like getting involved. I'm not adverse to bossing people around either.
I have a *slight* shoe addiction and occasionally indulge in an unnecessary handbag. Hah! That was a joke. There is no such thing as an unnecessary handbag. I love make up and jewelry and spa days. Yes, I'm a girly girl. But don't think that makes me weak. I can (and do) kill off characters with the best of them. Speaking of which…
My forays into writing have been as varied as the jobs I've held. I've written poetry, articles for magazines, short stories, paranormal romances (that include fantasy, contemporary and steampunk genres) and now I've found a home with urban fantasy. I love worldbuilding and few genres give you the kind of license urban fantasy does.
Elijah started his career, now 17 years in the making, as an actor in New York, where he performed in numerous productions including the Tony Award winning Broadway show, Metamorphoses at Circle in the Square, Shopping and Fucking at NYTW and Throne of Blood at BAM. He worked with the Royal Shakespeare Company for 2 years traveling with Tantalus, written by John Barton and directed by Sir Peter Hall. This production opened in Denver and toured throughout the U.K., finishing its run at The Barbican in London.