Warm
10 hrs and 17 mins

Since birth, Nyx has been betrothed to the evil ruler of her kingdom – all because of a reckless bargain her father struck. And since birth, she has been training to kill him.
Betrayed by her family yet bound to obey, Nyx rails against her fate. Still, on her 17th birthday, she abandons everything she's ever known to marry the all-powerful, immortal Ignifex. Her plan? Seduce him, disarm him, and break the 900-year-old curse he put on her people.
But Ignifex is not what Nyx expected. The strangely charming lord beguiles her, and his castle – a shifting maze of magical rooms – enthralls her. As Nyx searches for a way to free her homeland by uncovering Ignifex's secrets, she finds herself unwillingly drawn to him. But even if she can bring herself to love her sworn enemy, how can she refuse her duty to kill him?
Based on the classic fairy tale Beauty and the Beast, Cruel Beauty is a dazzling love story about our deepest desires and their power to change our destiny.
©2014 Rosamund Hodge (P)2014 HarperCollinsPublishers
Cruel Beauty Audiobook Sample
My thoughts
I added this book to my wish list as soon as I was done reading a review at Christy's Love For Books. I really got intrigued by what she had to say about this new "dark" version of one  of my favorite fairy tales.
A retelling of a fairy tale they say? Not so fast! Despite the clear undertones of the well known tale, Ms. Hodge has clearly  gone beyond re-imagining  and has made a Beauty and the Beast of her own.
Promised in marriage to the very monster responsible for the enslaved of her people , Nyx Triskelion must now fulfill her destiny – through her eyes, we are taken to Aracadia and to a fantasy world ruled by a demon prince.
She's ready to embrace her destiny, hoping that all the years of training towards her goal will prove sufficient to finally destroy her family and kingdom's enemy, The Gentle Lord.
How can you let love get in the way of accomplishing the mission that was entrusted on you from the day you were born? How can you love the very being you came to destroy? In there lays the foundation for the love story, not an easy one, and a dark one at times.
Nyx accepted her fate long ago, but not without losing a little bit of her soul, so her anger and bitterness are well understood, not an easy task to pick between her heart desires, and the responsibility to free her people.
In another departure from the original tale, the heroine will find her heart torn between two loves. In a very ingenious spin, the author give us a triangle that adds the perfect amount of angst to the story, without overpowering or undermining the plot, but I won't deny that it will tug your heart, and it has to, when an author creates such real chemistry between the characters, it's inevitable.
The world building is amazing, the descriptive narrative puts you right there. The brilliant way in which she uses Greek mythology is fresh, and for the time I was listening to this story I was completely taken away.
What I loved the most is the complexity of the characters. I never expected to find this kind of duplicity, they're flawed, and I love that!
The Gentle Lord and is comfortable and unapologetic about his cruelty and yet, you'll find him charming. This is another reason I enjoyed the book so much.
Ultimately I think it will come down to your like or dislike for these characters what will determine your feelings for the novel, but you won't be able to deny how well it was written.
Cruel Beauty Audibook Narration
by
Elizabeth Knowelden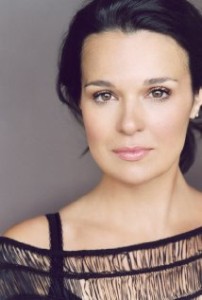 My first thought of the narration was how much older Elizabeth Knowelden sounded for the portrayal of Nyx, but not even 10 minutes into the narration I began to settle, and to accept her performance of  the 17 year-old.
With a clear english accent, Ms. Knowelden easily  transports your mind and heart to the setting.
I love her interpretation on Nyx. Her performance yields a very likable character. Her personality traits were delivered in very balanced manner. You clearly got the sense of her strong and determined temperament,  but at the same time she found a way to let her vulnerabilities come through her performance.
Her voice for The Gentle Lord although not as deep as would have liked for a male, was adequate enough, but I have to give kudos for accurately fleshing out his personality. His devilish tone was perfect, and the character's charm was easily conveyed, without neglecting the beastly nature behind the voice.
The same goes for shade, a different voice, and another well conveyed  character.
This accurate portrayal of the characters lets you enjoy the story without any distractions.
All in all,  this is avery good and enjoyable performance by narrator Elizabeth knowelden.