Dark Skye Audiobook Review
By:
Kresley Cole
Narrated by:
Robert Petkoff
Published by: Simon & Schuster Audio 08/05/2014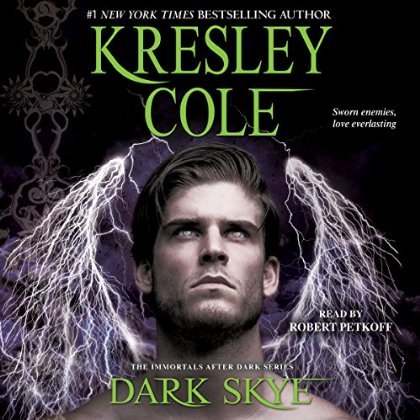 Dark Skye Audiobook Publisher's Summary
Dark Skye Audiobook Sample
This is one of my favorite Paranormal Romance series, especially on audio. I love the mix of action, snark and sexiness that Kresley Cole brings to the stories. Add in Robert Petkoff's narration and you can't help but make any book from the Immortals After Dark series an autobuy on release day for me. While I will admit that some stories are better than others, this one wasn't extremely high on my want list (for a IAD book, it was still high overall). I like the Lycae the best and I have to say Lothaire is one of my favorite stories in the series. Not sure how much of that is the story and how much of that is listening to Petkoff's accents. I will say that once I got into this book, I enjoyed it way more than I thought.
Lanthe and Thronos have known each other since they were children. They were best friends even as their species are mortal enemies. However, due to some miscommunication and things that were done, they had 500 years of hatred for each other. Thronos, though, feels the pull of his fated mate and seeks Lanthe out even though he can't stand her. He even gets himself caught by the Order to be with her.
As with all Immortal After Dark books, the timeline of this story somewhat overlaps with previous books. It starts with Lanthe and Thronos breaking out of the Order run prison, which we've seen the last few books. Lanthe is trying to escape with Carrow and Ruby, but Thronos drags her off in a different direction. Then the pair go on an Odyssey type adventure through worlds. As they try to survive these unknown worlds and perils, they learn that things about the past are not all as they seemed. As they overcome their differences, they learn that they were good together, just like when they were kids.
There is a lot happening with the overall story arc of the series. Cole also brings many of the characters and smaller story arcs back into the overall story, including the Dacians. There are some major spoilers that come out in this story. Not sure how many more books are in the series, but I'm starting to think I can see the light at the end of the tunnel of this story arc. I can't wait to see where the story goes next and who the next couple will be. I have some ideas, but I'm not sure at this time.
Dark Skye Audiobook Narration
By Ml Simmons
As always, Robert Petkoff knocks it out of the park with the narration. While this one doesn't have accents that I love, he is still amazing as he pulls of the different personalities of the characters. He does such a great job with the large number of female characters, especially showing their attitude. He really puts emotion in all the characters. He really makes the sexual scenes so realistic, I have to watch the volume in my earbuds at work.
Kresley Cole is the #1 New York Times bestselling author of the electrifying Immortals After Dark paranormal series, the young adult Arcana Chronicles series, the erotic Gamemakers Series, and five award-winning historical romances.
A master's grad and former athlete, she has traveled over much of the world and draws from those experiences to create her memorable characters and settings.
His work off-Broadway includes The New York Premiere of AVOW by Bill Davis, MRS. WARREN'S PROFESSION and MORE STATELY MANSIONS directed by Ivo Van Hove, the musical BLUE FLOWER at The Prospect Theatre Company and in 2009 he appeared in HAPPINESS at Lincoln Center, directed by Susan Stroman. Sir Peter Hall cast him in the starring role of Algernon in the national tour of THE IMPORTANCE OF BEING EARNEST with Lynn Redgrave, which was produced with the Theatre Royal Bath .