Possession Audiobook
By:
J. R. Ward
Narrated by:
Eric Dove
Published by: Penguin Audio 10/01/2013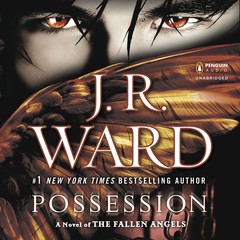 Hot
14 hrs and 11 mins
Whispersync for Voice-ready

When Cait Douglass resolves to get over her broken heart, throw off her inhibitions, and start really living, she's unprepared for the two sensual men who cross her path. Torn between them, she doesn't know which to choose – or what kind of dire consequences could follow.
JimHeron,fallen angel and reluctant savior, is ahead in the war, but he puts everything at risk when he seeks to make a deal with the devil – literally. As yet another soul is unwittingly caught in the battle between him and the demon Devina, his fixation on an innocent trapped in Hell threatens to sidetrack him from his sacred duty….
Can good still prevail if true love makes a savior weak? And will a woman's future be the key, or the curse, for all of humanity? Only time, and hearts, will tell.
©2013 J.R. Ward (P)2013 Penguin Audio
Sample
Review by MlSimmons
I won't give any spoilers from this book (which there are many), but there will some be from previous books in the series.
In book five from the Fallen Angels series, we start off pretty much where book four ended.  Jim is obsessed with getting Sissy out of hell.  He does what he has to, to get Devina to give up Sissyand she isn't in great shape. He spends a large portion of his time focusing on her and not enough time on the game.
It take a while to figure out who the soul is this story.  Ward doesn't focus on the hero and heroine as much in this story.  There is so much that goes on more with other aspects of the game, they seem lost within the story.
The heroine is Cait, who is a children's book illustrator and art professor in college.  She was actually one of Sissy's professors before she died.  She has a broken heartand her best friend is trying to get her back into the dating game.  She meets a singer, GB, at a club with her friend.  He asks for her number, which her friend promptly supplies.  The before she can even leave the club, she runs into Duke, whose a bouncer at the Iron Mask.  He wants to meet with her at the club when his shift ends.  Cait has a hard time choosing between the two men.
We find out more than halfway through the story that one of these two guys is a really bad person.  He has done some things that you don't expect.  We learn more about GB's and Duke's past later in the story.
As for the game, there are some extremely large changes that happen.  I can't say more than that without any spoilers.  Let's just say that, you have to read the book (or in this case, listen).
Narration
C+
As fornarration, I normally give Eric Dove a 4, but for this one, I have to give him a 3.5.  The reason, Xhex.  Duke works at the Iron Mask as a bouncer, which makes Xhex, or Alex, his boss.  She has quite a few lines early on in the book.  He makes her sound WAY too feminine.  Now, to give him the benefit of the doubt, if he's never listened/read BDB books, he would have no idea that Xhex is anything but feminine.  John Matthew is mentioned as well, but more as the big guy that comes to see "Alex", nobody's ever heard him say a word.
Overall, I enjoyed the story, but I would've liked to see more time with our hero and heroine.  I think their story was great, but too much time was spent on Sissy.  You cannot skip this book.