Ransom Audiobook
By:
Julie Garwood
Narrated by:
Susan Duerden
Published by: Brilliance Audio 03/2013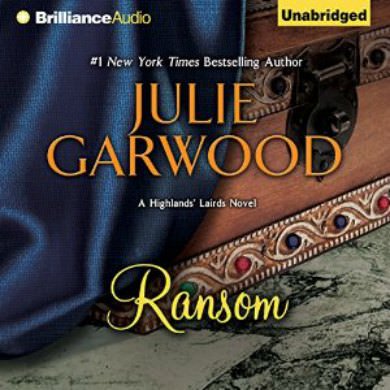 Warm
16hrs
Overflowing with all of the majesty and intrigue of medieval glory days, this magnificent New York Times best seller is a captivating story of passion and loyalty, justice and honor. Beloved storyteller Julie Garwood steps back to the silver-shrouded Highlands of her classic tale The Secret – and hails the return of two unforgettable warriors: Ramsey Sinclair and Brodick Buchanan.
In the dark days after the death of Richard the Lionhearted, lives and lands would fall into upheaval at the hands of a power-hungry British ruler and his violent minions. One victim of the scourge is innocent Gillian, who is a mere child when the cruel and ambitious Baron Alford slaughters her father and tears her family apart. Alford, determined to recover a jeweled box for the despotic King John, is furious when the precious treasure slips through his fingers – only to be lost for more than a decade.




Now a beautiful young woman, Gillian finds the key to resolving her past in handsome Scottish chieftains Ramsey Sinclair and Brodick Buchanan. With the cunning and courage of the daring Scotsmen, and with the friendship of a new ally, Bridgid KirkConnell, Gillian at last fights the unscrupulous Baron Alford, laying claim to her home, her family, and her father's reputation. But in the presence of the mighty warriors, Gillian and Bridgid discover that desire can be a weapon of conquest…betrayal can slay trust in a heartbeat…and the greatest risk of all is surrender – to the deep emotions of unexpected love.
©2010 Julie Garwood (P)2013 Brilliance Audio, Inc.
Susan Duerden has quickly become one of my favorite narrators. In Ransom, one of my favorite Garwood books, she manages to elevate it even more! Awe-mazing.
I've read Ransom several times, but it was fun to hear it read to me. Ms. Duerden does a wonderful job on the Scottish accents and inflecting just the right tone for the characters and the situation. I don't know how she got some of the deep voices for the men. Her pacing and voice level are consistent. It was a real joy to listen to this on audiobook. I'm so glad I didn't resist getting this newly released version, as I know I'll listen to it again and again.
What can I say about a classic Garwood Highland Medieval and – at 546 pages, or 16 hours on audio – a "chunkster" to boot? I feel like I'm repeating myself about Ms. Garwood; but, while there were a few LOL moments, what I really found was that I was smiling throughout this book. I like smiling while I listen to a story; it gives me a warm feeling; makes me want to hunker down under my covers and stay there, indulging in a bit of escapism to Garwood's Medieval Scotland. This writer can get away with a subtle brand of humor that others cannot. The prologue in this one is excellent, and instantly transported me there. Even in the urgency and danger of the situation JG still managed to capture the character and innocence of a young Gillian and make me… well, smile. ☺
Here we get two love stories in one, which some people don't like, but I found one complimented the other and made the developing friendship between the two women, Gillian and Bridgid, a more realistic relationship. It gave them something to talk about. (Not that there wasn't enough action, intrigue, and betrayal going on in the story.) This was true for the corresponding relationship between the two long-time comrades and heroes, Brodick and Ramsey. They all got to know each other on a different level, and it is easy for me to see the four of them remaining friends for life.
That said, I felt the resolution of secondary love story was a bit too quick; greedy romance reader that I am, I would have liked a smidgen more. Maybe a wedding? One not on horseback? LOL!
4.28 stars  ·  rating details  ·  11,212 ratings  ·  516 reviews on Goodread 
Narrated by: Susan Duerden
Written by: Julie Garwood
Reviewed by: