Revenant Audiobook
By:
Larissa Ione
Narrated by:
Hillary Huber
Published by Hachette Audio 12/16/2014
Hot

12 hrs


Hell hath no fury…
For 5000 years, Revenant believed he was alone in the world, a fallen angel beyond any redemption. Now he finds he has a twin brother who had all the light and love Revenant was denied. Caught in a tug of war between Heaven and Hell, he must weigh his thirst for revenge against his desire for a mysterious female named Blaspheme – a female whose very origins could deliver him into salvation… or destruction.
Like an angel scorned
Blaspheme has a deadly secret: she's the forbidden offspring of an angel and a fallen angel. Hunted by both heavenly and satanic forces, she has survived only by laying low and trusting no one. When Revenant claims he can save them both, how can she possibly believe him? But the powerful angel is persistence incarnate and for Blaspheme, there's no place she can hide in Heaven or Hell where he won't find her.
©2014 Larissa Lone (P)2014 Hachette Audio

Revenant Audiobook Sample
Revenant
My Thoughts
I went into the Revenant  audiobook knowing that it was the last book in the Demonica series. I started off reading the series way back before The Lords of Deliverance series even started. I don't know when I started listening to the series, but I got the audios going back to book one and did a relisten to the ones I had already read. Then I went straight to listening to the series with Rogue Rider. This is one of my favorite books in the series.
Revenant starts off right where Reaver ends, as in, just a few days after. Revenant is trying to come to terms with his newly returned memory. He also has deal with the fact that he has a twin brother in Reaver, who has had a much better life than he has. Reaver was taken from his mother, but raised in Heaven, while Revenant had to stay in Sheol with his mother. Revenant now knows that he is not a fallen angel, but a regular angel with Satan's blood running in his veins.
Blaspheme is a verm, the offspring of an angel and a fallen angel. This is a death sentence for her and her parents, from either Heaven or Sheol. She has been hiding as a false angel since her birth. However, her concealment spell is wearing off. Angels are getting very close to killing her mother. The last thing that Blaspheme wants is to draw attention to the most powerful fallen angel in existence, save Satan himself.
Both Revenant and Blaspheme have a tortured past and are living with pretty large secrets. Both have large trust issues because of their secrets. It takes a while for the relationship to build, due to these issues, but the way it builds only makes it all the better when they come together. And boy, the sex is hot, especially when Blaspheme makes Revenant follow the rules.
Being that this is the last book in this series, Ione did a great job pulling the series together. Not only do we get time the Lords of the Underworld characters, but we also have plenty of time with some of the characters from the original Demonica series. The overall story arc wraps up very well with no lingering unanswered questions.
There is a URL listed at the end of the book. It takes you to a page with more information about the series, be sure to check this out when you finish Revenant. There are spoilers on this page, so don't go there until after you are done with Revenant. I missed this listening to the audio, I quit when it sounded like the story ended. Luckily, it was pointed out to me later by Jen at That's What I'm Talking About, who read the book.
Revenant Audiobook Narration
My Review
I was really glad to see that Hachette brought Hillary Huber back for Revenant. She has done several of the Demonica books throughout the years. She has a great voice for the series. Never once did I question which character was speaking. Men and women voices were done really well. I really enjoyed Revenant's voice, in particular. He just sounds so sexy.
The one thing I will say about this series is that this series has struggled with the change of narration for each book. Some of the books are great, but I had one that really turned me off. Huber was one of my favorite narrators for this series. I wish they could've just stuck with Hillary Huber throughout the series.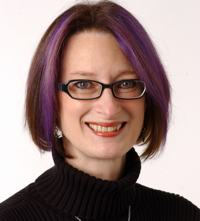 Air Force veteran Larissa Ione traded in a career as a meteorologist to pursue her passion of writing. She has since published dozens of books, hit several bestseller lists, including the New York Times and USA Today, and has been nominated for a RITA award.
She now spends her days in pajamas with her computer, strong coffee, and supernatural worlds. She believes in celebrating everything, and would never be caught without a bottle of Champagne chilling in the fridge…just in case. She currently lives in Wisconsin with her U.S. Coast Guard husband, her teenage son, a rescue cat named Vegas, and her very own hellhound, a King Shepherd named Hexe.
Hillary Huber
A multiple Audie Award finalist, an AudioFile Earphones Award winner, and one of AudioFile's Best Voices of 2010 and 2011, Hillary Huber has recorded close to two hundred titles. AudioFile magazine says, "Hillary Huber's narration is lyrical enough to be set to music." Hillary splits her time between Santa Monica and New York.