Rogue Descendant Audiobook
By:
Jenna Black
Narrated by:
Sophie Eastlake
Published by: Tantor Audio 5/2013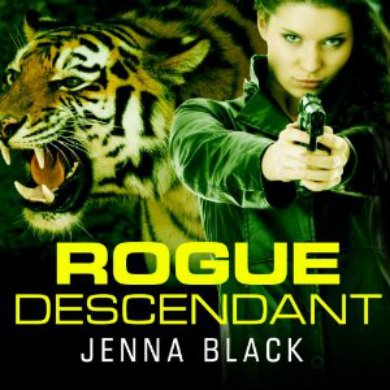 9 hrs and 6 mins
Sample
No longer the leader of the Olympians, Konstantin has now gone into hiding. Konstantin is vulnerable, and Anderson believes now is the perfect time to destroy his nemesis. He orders private eye Nikki Glass to use her powers to locate Konstantin, and she balks at the idea until a series of attacks leads her to believe that Konstantin is gunning for her and Anderson instead of remaining safely in hiding. Nikki's search is complicated by Cyrus – Konstantin's son and the new leader of the Olympians – who threatens retribution should his father be killed.

The complications mount up as Nikki begins to suspect that Konstantin might not be behind the attacks after all. The only person who hates Konstantin more than Anderson does is Anderson's estranged wife, Emma, who has joined the Olympians. And Nikki knows Emma would be more than happy if Anderson and his people embroiled themselves in an all-out war against the Olympians – a war they cannot hope to win. As Nikki tries to figure out who the true enemy is, she deals with her tumultuous relationship with Jamaal, who struggles to control his death magic. But being loved by a descendant of a death goddess is the least of Nikki's worries.

©2013 Jenna Black (P)2013 Tantor
 Review
If you've never read/listened to this series, I highly recommend you give it a try. Nikki is the descendant of a god, Artemis to be exact. Artemis is a moon goddess who can't miss what she is aiming at and is an excellent tracker. She is born mortal, but if she kills an immortal descendant, their immortality will pass to her. One such immortal, known as Liberi, commits suicide by jumping in front on Nikki's car. This kills him and give Nikki his immortality There are two groups of Liberi that we see throughout the series. Anderson's group, which consists of both Greek god descendants and descendants of other gods like Kali and Loki. There is also the Olympians, which consists only of greek gods. Their goal is to rid the world of Liberi from the other gods. Anderson's group has many more morals than the Olympians, which have next to none. Nikki is forced to join up with Anderson and his team. This will give you some background on the series.In this book, Nikki is being tormented by either Konstantin, the former leader of the Olympians, or Emma, Anderson's estranged wife who has joined the Olympians. The confessions of the torment claim to be Konstantin but don't appear to be his style. There is a lot of evidence that points to Emma as the culprit. Emma is convinced that Nikki is after her husband, which is not the case. We watch as Nikki works to uncover who is burning any building that is related to her. She is kidnapped and "killed", she gives the EMTs quite a scare when she returns from the dead. We see more interactions with Cyrus, Konstantin's son and the current leader of the Olympians. Nikki is also having complications of jealousy from Sita, a phantom tiger that belongs to Jammal, who Nikki is interested in.
I love this series and the characters. The world is extremely interesting in it's simplicity and the layers that are uncovered the more we learn. There is some romance, but it is barely blooming and in this book in particular, we see Nikki might be moving towards a love triangle with Anderson and Jaamal.
While this book is action packed, it still seems like a bridge to me for a bigger storyline to come. There is a pretty large cliffhanger at the end of this book that helps me to believe in the "bridge" aspect of this book as well.
I'm sure many of you know Sophie Eastlake, the narrator. She also does the most recent Chicagoland Vampires and all of the Elder Races series. She is a little bit flat in her narration when compared to some, but it works really well with the calm and collected Nikki Glass.
If you've haven't tried this series, I think you should really give it a shot. The first book is a little slow because there is a ton of character and world building, but book two is wonderful and this book is helping to build to something big coming in book four, I think.