Screwdrivered Audiobook
Narrated by:
Heather Smith
Published by: Simon & Schuster Audio 09/02/2014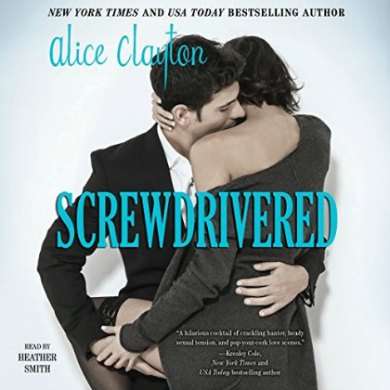 Hot

9 hrs and 16 mins
Whispersync  for Voice-ready

By day, Viv Franklin is a tough-as-nails software engineer who designs programs and loves hospital corners. By night, Vivian's a secret romance-novel junkie who longs for a knight in shining armor, or a cowboy on a wild stallion, or a strapping firefighter to sweep her off her feet. And she gets to wear the bodice – don't forget the bodice.
When a phone call brings news that she's inherited a beautiful old home in Mendocino, California from a long-forgotten aunt, she moves her entire life across the country to embark on what she sees as a great, romance-novel-worthy adventure. But romance novels always have a twist, don't they?
There's a cowboy, one that ignites her loins. Because Cowboy Hank is totally loin-ignition worthy. But there's also a librarian, Clark Barrow. And he calls her Vivian. Can tweed jackets and elbow patches compete with chaps and spurs? You bet your sweet cow pie.
In Screwdrivered, Alice Clayton pits Superman against Clark in a hilarious and hot battle that delights a swooning Viv/Vivian. Also within this audiobook, an answer to the question of the ages: Why ride a cowboy when you can ride a librarian?
©2014 Alice Clayton (P)2014 Simon & Schuster Audio

Screwdrivered Audiobook Sample
Screwdrivered
My rating 4.0
Listening to Rusty Nailed by Alice Clayton was outright hilarious! Though this book is not my favorite out of the three installments, I still enjoyed every bit of it. If you need a light and funny contemporary read, Alice Clayton's books will always be the one I recommend.
Vivi moved to Mendocino, California after inheriting a money-pit of a house from her aunt. She is determined to make this move well worth her time. Why wouldn't she? This land comes with her personal cowboy helping her with the upkeep and the librarian who is determined not to make it easy on her.
Vivi, Simon's tattooed friend with a great rack cracked me up. She looks tough, and no nonsense kind of girl but don't let the looks fool you. She is as romantic as a romance novel avid reader. She constantly daydreams and her imagination can get away from her. Unfortunately, if she doesn't get her head out of the clouds she can miss the very thing she longs for…True love.
I love Vivi and her daydreams of scenes from her romance novels. In this, I can totally relate to her. But what cracks me up is that her persona does not show this. She plays off a very tough and the I-don't-care-or-need-anyone yet in her heart she is quite the opposite. I really didn't expect it. Though, there is a play for team cowboy and team librarian, you can easily predict who Vivi will end up with. But I will admit that in the beginning, I thought it was the first guy she meets. Vivi and her cowboy and librarian had me laugh-out-loud. Such an enjoyable listen, I can't recommend this series enough.
Screwdrivered Audiobook Narration
My rating 4.5
Heather Smith is really growing on me. I think I like her more and more in each book that I listen to. She again did a good job with Clayton's writing. This time her impersonation of Vivi's daydreaming was well done. I really enjoyed it.
I'm still looking for an image of the elusive Heather Smith. I think most likely this is Pseudonymous,  here is a  list of her books available at audible.