Seven Years Audiobook
By:
Dannika Dark
Narrated by:
Nicole Poole
Published by: Tantor Audio 11/12/2014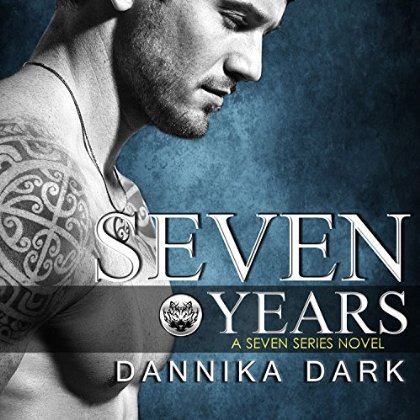 Warm

11 hrs and 24 mins


It's been seven years since Lexi Knight lost her brother in a tragic accident. On the anniversary of his death, her brother's best friend shows up unexpectedly – a man she hasn't seen since the funeral. He is no longer the boy Lexi once knew, but a dangerous-looking man with tattoos and dark secrets. He broke her trust and abandoned her family, yet what he reveals makes it impossible to stay angry.
Lexi has been secretly infatuated with Austin since childhood, so finding out he's a Shifter just makes him sexier. Dammit. Austin Cole has returned to the city where he grew up, and just in time. He's lived a hard life these past seven years, and the shadows of his past are threatening to destroy Lexi's family. It's time that she learned the truth about her brother, but there is a shocking twist that Austin never saw coming. Now he must protect her family when her mother and sister wind up in mortal danger. Will Lexi learn to accept the truth about who he is, and can Austin salvage a relationship from the ruins of their past?
©2013 Dannika Dark (P)2014 Tantor

Seven Years Audiobook Sample
Seven Years
My Thoughts
I got this Audiobook because of Melanie's reviews of the Mageri series by the same author. I thought this was a good time to get to know her in a brand new contemporary series. So you can imagine my surprised when a werewolf jumped into my story instead of a biker!!…LOL
The Seven Years Audiobook is the first in the  new paranormal romance series by Dannika Dark. In this introduction we get the story of Lexi and Austin – childhood friends, reunited once again, under strenuous circumstances.
Laxi's brother's death still pains her. Her ex- boyfriend is a "dick" and a cheater, but wants her back, a whole new world is about to be revealed to her, one that she's very much a part of, and now with the return of her childhood crush (her deceased brother's best friend) everything  is about get worse – or is it better?

You are probably thinking —Yeah, yeah …I heard that before! But if you read or listen to a lot of books, as I do, you know that an author can surprise you, and sell you the same product if it's originally packaged (or has enough spins of her own), that's exactly what Dannika Dark did for me with Seven Years.
Without going into details, I can tell you this new series has a little bit of everything I love to find in a new journey; action, suspense, politics, a likable heroine, a sexy alpha lead, and of course, romance!
Credible and likable characters, swoon-worthy alphas, and a world you want to re-visit made the Seven, a series  I'm adding to my list.
I'm growing tired of the paranormal world. I'm becoming really picky about the new series I want to invest my money in, so this was a pleasant surprise and a lucky accident. I enjoyed the real life issues that revolved around the plot, and I found it very entertaining with character I want to know more about.
I'll be checking out the next book in the series that I'm sure is going to be about one the "swoon characters" I just met.
I loved that the story is softened by the sweetness of a candy shop.
Seven Years Audiobook Narration
My review
This is my first experience with the narrator Nicole Poole – And from the reviews from Melanie and the samples I've put together I had a pretty good idea she was a good reader.
Ms. Poole interpretation easily lets you settle into the story. The decisive yet soft tone in her voice was well suited to bring Lexi to life conveying a realistic strong heroine.
Credible and "natural"sounding male voices are a must for a paranormal romance, and Ms. Poole excels in that department, I never had a doubt there was a sexy male character behind the voice.
I liked the way she brings the emotions in the book to the front, I had no problem relating to the situations in the story, I felt utterly transported.
All in all,  Seven Audioook  is well performed by Ms. Poole, and I'm glad to have found another narrator I can enjoy.
[vc_icon_tabs tabs_position="center" tab_contid="1815469426″ background_color="#538198″ hover_color="#162836″ active_tab_color="#7aa8bf" border_color="#203644″ border_width="6″][vc_icon_tab title="Author" tab_id="1415939381-1-33″ icon="fa fa-book" tab_back_color="#ffffff"]
[/vc_icon_tab][vc_icon_tab title="Narrator" tab_id="1415939381-2-54″ icon="fa fa-headphones" tab_back_color="#ffffff"]
Nicole Poole is a classically trained actor with equal passions for literature and improvisation. She has toured with the Royal Shakespeare Company, has been a member of the critically acclaimed Walter Thompson Orchestra for over fifteen years, and recently became a member of the Parisian groups SPOUMJ and Anitya. She is honored to have been recognized for her narration by an AudioFile Earphones Award, a Publisher's Weekly Listen-Up Award, and nomination for an Audie Award.
[/vc_icon_tab][/vc_icon_tabs]
Reviewed by: