Surrender to the Devil Audiobook
By:
Lorraine Heath
Narrated by:
Susan Ericksen
Published by Harper Collins 8/2012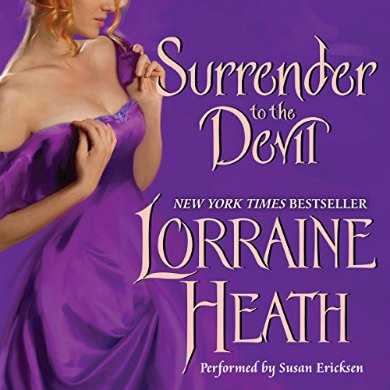 Scoundrels of St. James Series # 3
8 hrs and 51 mins
I wasn't sure how I was going to feel about Susan Ericksen reading another book to me except one of the In Death series by Nora Roberts. However, once I let go of that, I really enjoyed her narration. Her diction is perfect and, as an amateur linguist, she can pull off both men's and women's voices smoothly. She has a delightful way of delivering children's voices, too. Nevertheless, this one seems a little slow, so I increased the speed just a tad.
From the beginning, I was pretty sure I was going to give this book three or three and a half stars; however, the last half of the book was just too wonderful and I had to kick it up a notch. I even cried, when I least expected it, not once, but twice. The Romance Master, Lorraine Heath knows how to write a Romance; that is why she can pull off changing a character from an unlikable fellow in the previous two books to a hero in this one. Ms. Heath does an admirable job of bringing the memorable fictional characters from Charles Dickens' Victorian underworld to RomanceLandia.
Sterling Mabry, Duke of Greystone, isn't a very likable character. He hits on Frannie Darling right off the bat. While this is a typical duke "sense of entitlement" behavior, which I usually love, I was shaking my head and rolling my eyes here. It isn't that I loathed him; he just didn't do "it" for me.
Until you get his history, watch his character development, see him open up to the heroine and his environment. Then he became good enough for the kindhearted Frannie Darling.
In this third installment of Lorraine Heath's Scoundrels of St. James series you learn just how kindhearted Frannie truly is. At one point her forgiveness quotient made me cry unexpected tears.
Loved the epilogue, too.
Susan Ericksen is a three-time Audie Award–winning narrator who has recorded over 500 books. The winner of multiple awards, including twenty-plus AudioFile Earphones Awards for both fiction and nonfiction, Susan is a classically trained actress who excels at multiple narrative styles and accents.
Lorraine Heath is an American author of contemporary romance, historical romance, paranormal romance and young adult novels under multiple pen names, including Rachel Hawthorne, J.A. London, and Jade Parker.
Reviewed by: