The Audiobook Salad
Edition Two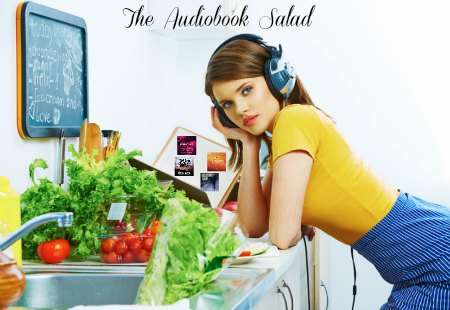 The Audiobook Salad is a new feature at Hot Listens where we will share quick reviews and opinions of audiobooks we have listened but don't have time to review in a long format. We thought it would be a good way to cover more audiobooks since we listen to a lot more than we can review.
The Martian Audiobook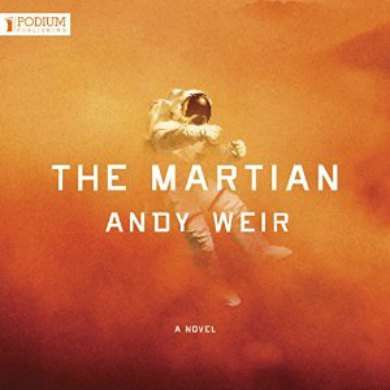 [/vc_icon_tab][vc_icon_tab title="Review" tab_id="1428424562-2-46″]
The Martian Audiobook
Overall : 4.5 Hearts
The Martian.
It's not easy to keep me engross amidst mathematic calculations and space geekiness, but listening to this tale of survivable and the ingenuity of Mark Watney was totally enthralling. Perfectly achieved tension mixed with Mark's down to earth and humorous attitude kept my ears glued to my phone and made me cheer out loud his accomplishments.
Mark is a very likable character. His trashy and colorful language made his personality realistic and totally relatable; I loved his positive attitude despite his grim circumstances.
Story: 4 hearts
The Martian Audiobook Narration
The Martian was a story that I could have easily dismissed if weren't so expertly told by narrator R.C. Bray.
I'll be honest, I like to watch the movies made of stories like this (eg: Gravity). I'm not a fan of reading this type of books, but when narrator pulls you in right from the get-go and doesn't let go until you reach the end, it leaves no other option.
He did a great job with Mark's playful personality, as well as, creating an atmosphere of tension that made me hold my breath.
He's got an excellent repertoire of voices and accents to keep the story straight.
All in all, The Martian is beautifully brought to life by narrator R.C. Bray.
Narration: 5 Hearts
I like to thank The Reading Junkie for this awesome recommendation, and The Bookaholic Cat for letting me know how good it was on audio.
[/vc_icon_tab][vc_icon_tab title="Info" tab_id="1428433166877-2-8″]
The Martian Audiobook
By: Andy Weir
Narrated by: R.C. Bray
Published by: Podium Publishing 03/22/2013

Duration: 10 hrs and 53 min
Sensuality: Warm
Genre: Science  Fiction
[/vc_icon_tab][/vc_icon_tabs]
Cementery Boys Audiobook
[/vc_icon_tab][vc_icon_tab title="Review" tab_id="1428443426987-0-10″]
Cemetery Boys Audiobook
Overall: 3.5 Hearts
Cemetery Boys
I was so excited to listen to this story, and in the first 25 mins I thought I was in for a terrific an exciting ride. Unfortunately, our little hero's up bursts of teenage hormones at the most inconvenient times kept taking me right out the story and killing the suspense feel. Maybe it was the fact that this was one the few times I got a romance story from a boy's point a view..LOL – What brings me to the romance and not the strongest point of this story for me, I never felt a great connection between the protagonists.
It's not all bad. It has its moments, and it could have been a very cool creepy tale, and at times it's totally creepy. But somehow the whole plot fizzled out for me, and left me with more points that were just OK than those I loved.
I did like the protagonist, Stephen; his inner monologue was entertaining, and since we get the story from his point of view it wasn't all bad.
I like how touching and real I found his relationship with father.
I also found some brilliant writing moments that kept me in the story until the end.
All in all,  it's not bad, I just though it could have been better.
Rating: 3.0 Hearts
Cemetery Boys Narration
I have to give props to narrator Keith Heyborne for his efforts to inject the story to with perfect creepy and suspenseful feel, and at times he succeeded.
Unfortunately, the text failed him  a few times and stopped him from delivering a great horror tale about a small town that promised a lot, and maybe I was just expecting so much more.
My rating: 4.5 Hearts
[/vc_icon_tab][vc_icon_tab title="Info" tab_id="1428443428634-0-10″]
[/vc_icon_tab][/vc_icon_tabs]
Manwhore Audiobook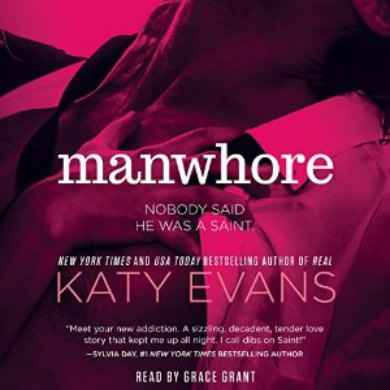 [/vc_icon_tab][vc_icon_tab title="Review" tab_id="1428441355-2-78″]
Manwhore Audiobook
Overall: 4 Hearts
I swore I wasn't going to pick up another tale featuring the quintessential hero; rich, powerful and with an unobtainable heart. But when I kept reading the great reviews for Manwhore I caved and decided to give it a go.
I'm glad I did because I enjoyed Manwhore! It goes to show you that even an overused premise can be span to made feel fresh and new, and this is the case with Manwhore.
As a rich, powerful and a playboy, Malcolm Saint likes to keep his life very private, the last thing he wants is a reporter snooping around in his business. But when he meets Rachel he can't help to be smitten by the uncharacteristic and different personality from the women (air heads) he is used to dating.
On the other hand, Rachel has to fight her attraction to the enigmatic playboy, the last thing she needs is to be just a challenge and  a feather on Malcolm's hat.
I loved these two fight to love. The obstacles create a delicious sexual tension and chemistry the jumped off the pages; in my case, off my phone.
I like the characters; I liked how Katy Evans slowly but surely made care for them and their outcome.
The only drawback to this story was the ending…….Apparently there won't be one until the next book – So yes another cliffy!
Rating: 4.0 Hearts
Manwhore Audiobook Narration
I'm a big fan of Grace Grant! The woman knows how to flesh out these characters to maximized your enjoyment.
Again, time after time she brings the heroines and heroes to life with the perfect personality by staying faithful to the text.
The interpretation of the emotions never contradicts the mood of the story, she always put you there! And Manwhore is another showcase of her talent.
Yes, Malcolm Saint was made deliciously devilish by Grace Grant's delivery, and that's was a good thing for Manwhore.
Rating: 4.5 Stars
[/vc_icon_tab][vc_icon_tab title="Info" tab_id="1428442789841-2-4″]
Manwhore Audiobook
Menwhore Series # 1
By: Katy Evans
Narrated by: Grace Grant
Published by: Simon & Schuster Audio 03/24/2015
Duration: 10 hrs and 3 mins
Sensuality: Hot
Genre: Contemporary Romance
[/vc_icon_tab][/vc_icon_tabs]
Becoming Rain Audiobook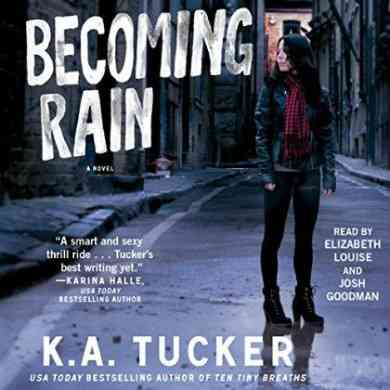 [/vc_icon_tab][vc_icon_tab title="Review" tab_id="1428443248-2-87″]
Becoming Rain Audiobook
Overall: 4.5 Hearts
Becoming Rain is the second entry in the Burying Water serie by K. A. Tucker, and as much as I liked the first book, Burying Water, Becoming Rain took my enjoyment to a different level.
I eat up these audiobooks like pop-corn, strictly for the entertainment value. I don't expect to find philosophical answers or long life lessons to live by. I love them b/c they take me away, and now, if the author adds a suspenseful plot and  twist and turns to an already interesting love story, you can bet I'll devour it.
Undercover agent, Clara Bertelli has become "Rain" to get close to the target of her investigation.
She was aware of all the risks this mission presented, but she never imagined her heart and career in danger. But as love stories go, the closer she got to her target, the closer he got to her heart – easily understood after we meet Luke Boone.
I was surprised by the level of suspense I found in the plot. Things got slow start while things got setup, but by the middle I was completely enthralled with Luke and Rain's point of view. I got lost in the world of mafia, crime, romance, and pounding moments that made the 11 hours in the audiobook feel more three.
Rating: 4.5 Hearts
Becoming Rain Audiobook Narration
Again, Elizabeth Louise proves why she's ones the best voices and interpreters of NA novels.
Her delivery of Becoming Rain is outright fantastic!
Clara (Rain)'s point of view was a flawless interpretation by Elizabeth. Her delivery yield a strong and smart heroine that even in the moments of doubt never come across as a weak character. I love that!
The suspense and romance are equally transmitted to the listener to ensure a great experience.
I wasn't 100% sold on the interpretation of Jesse on Burying Water by Josh Goodman. I liked it, but I thought he sounded a bit much of a wise guy. Now for Luke Boone was a totally fitting approach and enjoyed his performance much more than I did in the previous novel.
All in all, I really enjoyed both of their performances, they made Becoming Rain a real winner for me.
Rating: 4.5 Hearts
[/vc_icon_tab][vc_icon_tab title="Info" tab_id="1428445371139-2-6″]
[/vc_icon_tab][/vc_icon_tabs]