Blind Faith Audiobook
By:
Rebecca Zanetti
Narrated by:
Karen White
Published by: Hachette Audio 01/21/2015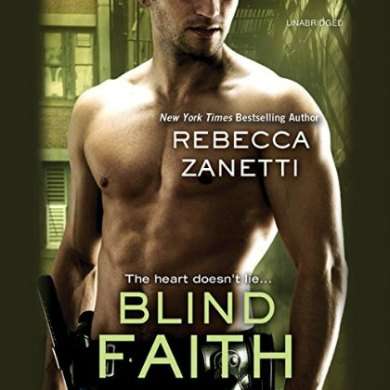 Hot

12 hrs and 6 mins
Blind Faith Audiobook Sample
A betrayal he couldn't forget…
For Nate Dean, love is a four-letter word. As part of a secret black-ops military unit, he and his brothers were genetically engineered by the government to be ruthless soldiers with an expiration date. They were loyal only to one another… until Nate laid eyes on the woman who stole his heart and blew his world apart. Now, years later, his family is still paying the price for his mistake. But as time runs out, there's only one person who can save his family: the very woman Nate swore he'd never trust again.
A love she couldn't deny…
The moment Audrey Madison spies Nate across a crowded ballroom, she can barely breathe. He's just as undeniably sexy as she remembers, yet there's an edge to him now that's as irresistible as it is dangerous. When he asks for her help, Audrey can't refuse. But she has secrets of her own – secrets that, if Nate ever discovers them, may cost them both their lives…
©2015 Rebecca Zanetti (P)2015 Hachette Audio

Blind Faith (4.5 Hearts)
I just started this series late last year. It is a romantic suspense series with a hint of paranormal to it. It focuses around a group of brothers who were bred in test tubes and raised on a military base by the Commander who thought of them as nothing but weapons since the day that they were born. The paranormal aspect comes into play because the greay brothers (named for the color of their eyes) have enhanced abilities, such as, supernatural hearing, healing, and focus on little to no sleep. On top of all these genetic upgrades, they've have the best military training in the world.
Blind Faith focuses on Nathan, the second oldest of the Dean brothers. The book starts off with a flashback to when they are still children. It was very sweet to see how Nathan not only wanted to give his two younger brothers a happy childhood and memories with of Christmas, while still protecting his older brother from the consequences that the Commander puts on Nathan to have this little piece of happiness.
The heroine of this story is Audrey Madison. She is the daughter of the head psychiatrist for the Commander. She was raised in a loveless relationship with her mother. Raised by nannies, boarding schools and was little more than a curiosity to her mother. She has no idea who her father is. When she was still high school aged, Dr. Madison set Audrey up with Nathan to see how the Grey brothers would respond to love that wasn't for one another. She just wants to feel wanted by someone for herself.
Blind Faith takes place in Washington D.C. Audrey is working as an aide to a Senator from Wyoming. She was planted there by the Commander, hoping that she could help get funding for the Commander's projects pushed through the government. The story is full of everything you would expect with secret military groups, politicians, fanatical lobbying groups. There is lots of murder, backstabbing, and secrets. Add in the Dean brothers, and you have a truly exciting story.
While you could read Blind Faith without reading the other two books first, I do think it is great to see the brother grow throughout the series. I've really enjoyed watching how each of the brothers have fallen for each of the women in the series. I'm really excited to get to the last book of the series. The final brother of the series is quite a mystery. The audio release of that book can't come soon enough.
Blind Faith Audiobook Narration
(4.0 Hearts)
This is the first series that I've listened to by Karen White. I've heard about her a lot, but she doesn't do many, PNR or UF books, which is my main genre.
I've seen her name come up a bunch on contemporary romances, but they are not high on my list, though I do some here and there. She did a great job with the Sin Brothers series. She did a great job with both male and female characters. I hope to find more books with Karen White as the narrator. I really enjoyed her portrayal of Blind Faith and the other Sin Brothers books.
Growing up amid the glorious backdrops and winter wonderlands of the Pacific Northwest has given Rebecca fantastic scenery and adventures to weave into her stories. She resides there with her husband, children and extended family who inspire her every day. Rebecca has completed several manuscripts, winning award throughout the writing industry for her work. She currently writes the Dark Protector series for Kensington Publishing, the Maverick Montana series for Entangled Publishing, and the Sin Brothers series for Grand Central Publishing.
Karen White is a classically trained actress who has been recording audio books since 1999 and has well over 150 books to her credit and is a proud member of SAG-AFTRA. Honored to be included in Audiofile's Best Voices 2010 and 2011, she's also an Audie Finalist and Best Audiobook of the Year winner for 2009, 2010 and 2011 (The Hemingses of Monticello by Annette Gordon Reed, Too Good to be True by Erin Arvedlund, and Everything That Rises Must Converge by Flannery O'Connor) and she has earned multiple Audiofile Earphones Awards.