Cursed Audiobook

Published by: Tantor 3/12/2019

12 hrs and 30 mins
Cursed Audiobook

3.5 Hearts
This is the second book in the Kingdoms of Earth & Air series by Keri Arthur. I really enjoyed the first book in this series, Unlit. I liked the world that Arthur had created. I liked the characters. I thought this was an urban fantasy series where we would follow the same character throughout the series. This is actually a paranormal romance where we have a different couple in each book. I don't mind paranormal romances, it just wasn't what I was expecting from reading the first book in the series. But, that's not the first that this has happened to me and it isn't a bad thing in my book. Here is what through me for a loop. While this story takes place in the same world, it isn't anywhere close to the location of the first book. The characters are also all completely new. There isn't much to bridge the gap between books one and two.
So this story follows Princess Nyx Bel-Hannon. Her father is the king, though he has not done what is required of the the ruler of Cannamore. The ruler for over a thousand years has been able to pull a sword from the crystal throne. However, Nyx is the one who pulled the sword, not her father or her brother. So the men covered it up so that she wouldn't become the ruler. They also put bracelets on her that gave them full control of her and tortured her in several different ways.
Nyx is sent off to fit with other prisoners in what would basically become a suicide mission. Her father and brother want her to die. While we don't see any of the torture firsthand, we do get some of the details, so beware of people to people who might be triggered by such things (and think of the ways that women are tortured).
It's not a bad story. The action is pretty good. However, I didn't really like the characters. Nyx isn't a bad character. She's isn't prissy and has had a hard life. Her father and brother made things very difficult for her. I don't know what it was that she didn't click with me. I was also not pulled in by her love interest, Donal. Again, I don't know why he didn't click with me. He was a good guy and really stood beside Nyx and let her lead and just supported her when she needed it.
I really wish that I could put a finger why this story wasn't as good for me as the first book. Like I said, the action wasn't bad. The story plot was a good story. While the characters aren't bad, they just didn't click for me for whatever reason. Maybe it was my mood. I'm not sure. I did enjoy it, just not nearly as much as the first story. I do highly recommend that people give the series a try. I will still try the next book to see if it was just my mood or whatever because I do love this world.
Cursed Narration
5 Hearts
Justine Eyre is a favorite narrator of mine. I really enjoy the voices that she does. She does a great job with both male and female voices, no matter the size of the cast.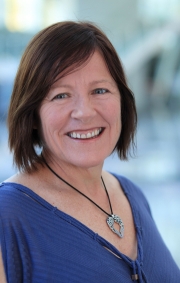 Author: Keri Arthur
I'm a born and bred Melbourne (Australia) gal, and grew up sharing my life with dragons, elves, vampires, werewolves, shapeshifters and the occasional talking horse. Which worried my family to no end. Of course, now that I'm actually making a living sharing my life with the above-mentioned creatures, they no longer contemplate calling the men with the little white coat. When not at my keyboard, I can be found at the gym, sitting in front of the TV, or off in the countryside somewhere taking random photos.
Justine Eyre is a classically trained actress who has narrated over two hundred audiobooks. With a prestigious Audie Award and four AudioFile Earphones Awards under her belt, Justine is multilingual and is known for her great facility with accents. She has appeared on stage in leading roles in King Lear and The Crucible, and has starring roles in four films on the indie circuit. Her recent television credits include Two and a Half Men and Mad Men.
I like to thank Tantor Audio for providing me with a copy of this audiobook in exchange for an honest review.
Reviewed by: