Risk It All Audiobook

By:
Katie Ruggle
Narrated by:

Callie Beaulieu
Published by: Tantor Media 01/02/2020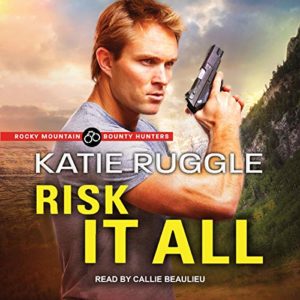 Rocky Mountain Bounty Hunters #2
8 hrs and 39 mins
Risk It All Audiobook Sample
Risk It All Audiobook

4 Hearts
This is the second book in the Rocky Mountain Bounty Hunters series. The series follows five sisters who are bounty hunters and struggling to make it as their mother seems to throw roadblocks in their path every chance she gets.
Cara Pax never really wanted to be a bounty hunter. She's actually in school to be a teacher. She always helped out as a researcher, never in the field. However, she really feels like a burden on her sisters and wants to carry more of her weight. So she decides to take on a bounty by herself without her sisters' knowledge, because they all have a lot on their plate trying to find their mother. However, Cara takes on more than she can really handle with this bounty.
Henry Kavenski has a bounty on his head as he skipped bail for murder. He is trying to prove his innocence. However, the people after him want to use Cara to get to him. They kidnap her and he comes to her rescue.
This is a pretty fast paced story as there are kidnappings and car chases. The attraction between Kavenski and Cara is strong and really is from the beginning, but both have more concerns on their minds.
I continue to have a great time with this series. I can't wait to read the other stories of the sisters and see where things go with their mother.
Risk It All Narration
4 Hearts
Callie Beaulieu continues to do a great job with the narration of this series. I like all the voices and tone she uses for each character and scene. I've only listened to her with Katie Ruggle books, but I would love to listen to her more. I would recommend her.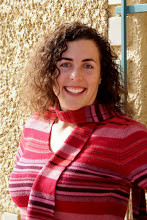 Author: Katie Ruggle
A fan of the old adage "write what you know", Katie Ruggle lived in an off-grid, solar- and wind-powered house in the Rocky Mountains until her family lured her back to Minnesota. When she's not writing, Katie rides horses, shoots guns (not while riding, although that would be awesome), cross-country skis (badly) and travels to warm places where she can scuba dive. A graduate of the Police Academy, Katie received her ice-rescue certification and can attest that the reservoirs in the Colorado mountains really are that cold. A fan of anything that makes her feel like a bad-ass, she has trained in Krav Maga, boxing and gymnastics.
Narrator Callie Beaulieu
Callie Beaulieu has been an actress for several decades. Classically trained, she is predominantly a theater actress, and her work has been seen around the country. Callie recently returned to the States after spending nearly a decade living in the Caribbean. She is a proud member of Actors Equity Association and SAG-AFTRA.
I like to thanks Tantor Media for providing me with a copy of this audiobook in exchange for an honest review.
Reviewed by: