Hot


6 hrs and 34 mins

Grizzly Love Audiobook Sample
Grizzly Love Audiobook

4 Hearts
Grizzly Love is the last installment of the Kodiak Point series. In this story, we have Travis, the "cub" that drives everyone in Kodiak Point crazy. He is a momma's boy and is proud of it. But then, everyone in the town is too scared to call him out for it. His mom and her wooden spoon keep the town in line. And if that doesn't scare you, she could always cut you off from her cooking. That doesn't mean that Travis doesn't get picked on or beaten up, because he takes his fair share of beatings.
Dr. Jess is fairly new to Kodiak Point. She moved to be the town doctor. She is married, but her husband is off in the old troop that the boys in Kodiak Point were in, but refuses to come home, even when given leave. He hasn't been faithful to her and everyone knows it. Problem is that Jess is a red-tailed hawk and they mate for life, so no matter what her husband has done, she can't move on with him alive. He is a raven and no such qualms.
When the group learns that the naga, and villain from the previous book, has fled the country and is now not far from where their old military group is stationed, they decide to go after him. Jess, deciding this is a great way to confront her cheating husband, insists on going. It will be dangerous and they'll need a doctor, right? Well, that then drives Travis to insist on going. He has had a crush on Jess since he first met her. He wasn't about to let her go into danger without him there to help protect here. Plus, he might finally get in on some action.
Grizzly Love is a great wrap-up to the series. The overall story arc has great closure. We have a great happy ever after for all the characters in Kodiak Point. There are several couples that are even expecting babies. This story has everything you would expect from the series. It is funny, sexy and full of action. I highly recommend this series if you like your shifters with a side of sarcasm. I would recommend starting the series from the beginning, though I don't know that you would be completely lost if you picked up a book in the middle.
Grizzly Love Audiobook Narration
3 Hearts
Chandra Skyye continues to do a good job with this series. I can easily tell the difference between each of the characters. I do listen at an increased speed, because her pacing is a little slow for me, but it works perfectly at that increase. I would still like to see her add more humor to these hilarious book, but overall, not bad.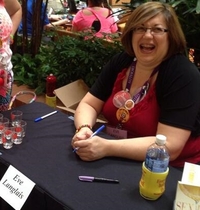 Hello, my name is Eve Langlais and I am an International Bestselling author who loves to write hot romance, usually with werewolves, cyborgs or aliens .
I should warn you, I have a twisted imagination and a sarcastic sense of humor something I like to let loose in my writing. While well known for my shifter stories, I am also extremely partial to aliens, the kind who like to abduct humans and then drive them insane…with pleasure. Or do you like something a little darker, more serious? Then check out my cyborgs whose battle with humanity have captivated readers worldwide.
Narrator Chandra Skyye
Chandra Skyye loves bringing characters and stories to life through voice acting and singing the blues. A lover of life, she spends her spare time being creative, appreciating nature, and sharing fun times with nice people and good dogs.
I like to thanks Tantor Media for providing me with a copy of this audiobook in exchange for an honest review.
Reviewed by: