Hot and Badgered Audiobook
By:
Shelly Laurenston
Narrated by:
Traci Odom
Published by Tantor Media 03/27/18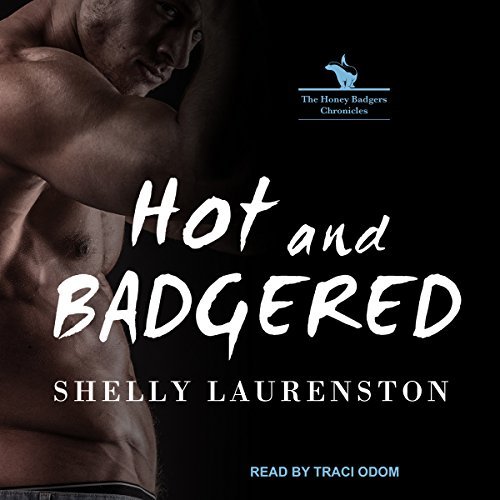 Honey Badgers Chronicles Series #1
13 hrs and 14 mins

Hot and Badgered Audiobook Sample
Hot and Badgered Audiobook

4.5 Hearts
In this first of a spin-off series from Shelly Laurenston's Pride series, we follow three half-sisters as they try to survive. The MacKilligan sisters have had a rough past which has left them with a few issues. Add to that they are all at least half honey badger, they have some interesting personality traits.
We start off this series with a prologue about the sisters as they are very young. Charlie, the oldest of the sisters and half-wolf, her mother took in the other two kids of her ex. Max is a full honey badger and the middle sister. Stevie is the youngest and half tiger. When Charlie's mom dies, she gets her sisters to her mother's pack in Wisconsin and her grandfather raised them until they were adults and then encouraged to leave the pack.
Charlie has spent her whole life caring for her sisters. She is the glue that holds them together. Max is a psychopath and will blow up at people and likely kill them. Stevie is a genius in both science and music. She also has a lot of anxiety and spends a lot of time in mental institutions for the rich.
When the MacKilligan are again on someone's hit list because of something stupid their father did, Charlie has to gather her sisters and get them to safety. She takes them to a place outside of New York City. They end up in a safe house in a bear neighborhood across the street from the hero of the story, Berg Dunn.
So Charlie has to find out how to get the assassins off their tail. While she has to do that, she is also roped into making sure one of her cousins go through with her wedding to a very rich human who doesn't know that he's marrying into a crazy honey badger family.
So Berg, his brother and sister, they're triplets, are just sweet cuddly teddy bears. I really liked all three of them. I just really love how she writes bears. They are so cute and their obsession with honey is great too (though, nothing will ever top Locke playing with his toes).
The MacKilligan sisters are crazy, but funny and a lot of fun. I can't wait to hear more of their story.
A big highlight is that you have many characters from the Pride series. Dee-Anne Smith, Kyle Jean-Louis Parker, Blayne Thorpe, Ulrich "Ric" Van Holtz and Marcella "Cella" "Bare Knuckles" Malone, and last but not least, Bo Novikov all make appearances. There are more too. I'm hoping that Shin, the panda shifter we met in the last Pride book, who also makes an appearance in this one, will get his own book in this series. I love Shin.
This series is all about the humor and crazy characters. The romance isn't the focus of the story, it is mostly about the crazy family while the sisters look to find the assassins. I love everything about it. So much fun. I was laughing so much. If I had read this book, instead of listening, I would've had so many quotes highlighted to include, but it is so hard to do with audiobooks.
Hot and Badgered Audiobook Narration
4 Hearts
I had been hoping that Johanna Parker, the narrator for the Pride series, would narrate this series, but I was excited to see that Traci Odom is the narrator. She is another narrator who I love. I thought she did a great job with all the characters in this series, and there are a lot. There are a few differences between her voices for some of the Pride characters, but the differences aren't extreme and the new voices aren't bad, just a little different. I loved her male and female voices. If you haven't tried Traci, I highly recommend her. She does a great job with all of her narrations.
Originally from Long Island, New York, Shelly Laurenston has resigned herself to West Coast living which involves healthy food, mostly sunny days, and lots of guys not wearing shirts when they really should be. Shelly Laurenston is also The New York Times Bestselling author G.A. Aiken, creator of the Dragon Kin series. For more info on G.A.'s dangerously and arrogantly sexy dragons, check out her website at www.gaaiken.com.
Narrator: Traci Odom
Traci Odom, an American-born actor and voice artist, has built a successful career that spans decades. As a stage, film, and television actor, she has played everything from a tree to an Irish setter to a lawyer, but it is as a veteran narrator of more than fifty-five audiobooks that she has truly found her voice, inviting her listeners into the worlds of romance, witchcraft, devilry, and vampirism. To relax in her spare time, she daydreams of becoming the first female American Ninja Warrior—but then she would have to get off her couch to make that dream a reality, so she lives out her daydreams in her professional life, both on camera and on microphone. Working in close collaboration with her authors, she brings their creations to life with dynamic energy and commitment.
I like to thanks Tantor Media for providing me with a copy of this audiobook in exchange for an honest review.
Reviewed by: