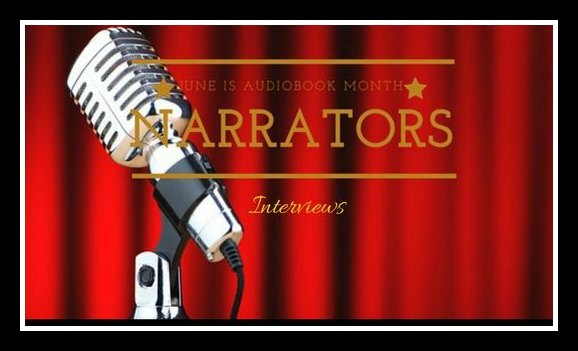 June is Audiobook Month. We will have several narrator interviews, along with other audiobook posts and of course audiobook reviews. Lastly, don't forget to check out our giveaway.
An Interview with Dawson McBride
1. How did you get involved in recording audiobooks?
I have always loved telling stories and after a very successful career in another field, where I was required to use my voice to effectively communicate to others I sought to find another field of work where using my voice could be used for the sole purpose of entertainment.
2. What type of prep work do you do before recording a new book? Do you prepare differently if the book is standalone or first in a series versus later books in a series?
My preparation is simple. I read the entire manuscript and I take notes on the characters, their descriptions and mannerisms, as written by the author, including accents and other speech patterns, when noted. I also need to know the arc of the story – what happens and why – and who the protagonist(s) is/are and who the antagonist(s) is/are so I may provide them with the proper attitude once I begin production. In my mid, I "cast" the audiobook as if I were casting a movie. I use people I know or whom I've seen in movies or on television or maybe even those I've encountered in my every day life.
For every title I create a folder to hold the voices of all the characters I create so if a character who appeared in the beginning of the story doesn't appear again until much later, I may listen to draw on that original characterization in order to keep it consistent within the overall production. This is very important for a series, so that it is consistent through the series for those characters that appear in more than one title.
3. Do you narrate every book that comes your way or have you ever turned one down. And if you have what made you decide not to go forward with this project?
I've turned down several titles and those decisions are not made lightly because I understand how important a title is to each individual author. I understand, first hand, how rejection can feel on a personal level. As an example, when I audition for a title if I'm not chosen, it stings a little, but I've learned over time, and with quality coaching, that my voice isn't a perfect fit for every title I may audition for. It only stands to reason that not every book or title will I be interested in producing.
I love to produce titles where I enjoy the story. I love Happily Ever After (HEA) stories or if in a suspense or drama title I love when the good guys win or overcome some overwhelming obstacle to persevere. If I enjoy the book I know I'll enjoy producing the audio version of that book.
4. What is the element of narration that you find comes easiest (accents, age, emotion, rhythm of the story)?
I like being in control and working by myself. I enjoy the solitude of the process, especially when I've completed a title and the author or publisher tells me they are satisfied with my production of their work. It's humbling to know that authors trust me with their written words. I know how hard they have worked to get those words on the page in just the right way to convey the story they've created.
5. Consistency in character voices throughout a series is very important to me and many listeners. How do you remember how each character's voice/tone/style when you go to read the following books, especially when you consider there is usually a year or more between each release?
I think because I'm such a stickler and can still hear sound bytes from yesteryear from movies, shows and music, in my head, it's developed an uncanny superpower of knowing most of the characters, especially when I have a particular affection for them. However, we also always catalog voice reference files as we record, whether at an outside studio or when I self record.
6. What was your most challenging read? What made it so difficult?
My most challenging reads are those when I have discovered I may have made a mistake in accepting the offer to produce the book. The title turns out to not be written particularly well and it's a struggle for me to get through the text. Also, it is disappointing when I discover I've not met the author's expectations.
7. Which famous person, living or dead would you like to meet and why?
This type of question changes for me depending on my circumstances at the time…. Today my answer will be that I'd like to sit with those who framed the US Constitution and get answers from them on what they envisioned when they created the rights many of us take for granted and so many of our loved ones have died for…and tomorrow I think I'd simply like to ask God – why cancer is allowed to be a thing. Having lost my share of loved ones to this disease I'd like to better understand its purpose…and the next day I'd like to ask our current elected representatives in the House and the Senate and ask if they were ever taught the Golden Rule – because if they were, I don't think they understood because they don't appear to be applying it properly.
Dawson McBride Audiobooks
The McCades of Cheyenne by Kim Turner
Hell Ryders MC Series by J. L. Sheppard
Moving Target (Guardian Security #1) by Desiree Holt
Seize the Flame by Lynda J. Cox
Wounded at Home (The Wounded SEAL Trilogy 2) by Mitzi Pool Bridges

Love at Five Thousand Feet by Jane Lewis
Dawson McBride is giving away five audiobooks.
Open to all over 18 years-old. Open to all who can receive audiobook codes from Audible. Five random commenters will win any one of the audiobooks narrated by Dawson McBride. Winner will be announced July 2, 2018.

Enter our Audiobook Month Giveway!
Open to all over 18 years-old.
By entering this giveaway you agree to our privacy policy.