Otherworld Secrets Audiobook
By: 
Kelley Armstrong
Narrated by:
Johanna Parker, Brian Hutchison, Saskia Maarleveld, Susan Bennett, Morgan Hallett
Published by: Recorded Books 01/26/16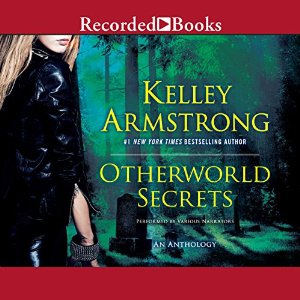 12 hrs and 10 mins mins

Otherworld Secrets Audiobook Sample
Otherworld Secrets Audiobook

4 Hearts
Life After Theft
Narrated by Johanna Parker
This is a brand new story for this anthology. I love Hope and Karl. Always have. After watching the show Bitten, I love Karl even more. I love the actor they got to play him. I thought he was great in season one. Anyway, Karl is retired from being a jewel thief werewolf, but someone really wants him to come out of retirement. They try really hard to get that to happen. Hope is an Expisco Half Demon, aka chaos demons because they thrive on chaos. Oh, and who is her demon half, none other than Lucifer himself. Oh, and they have a daughter. Think of that breeding and how much trouble that child can be. Though the child isn't a large part of the story, she was adorable. Makes Elena and Clay's kids seem calm.
Forbidden
Narrated by Brian Hutchison and Morgan Hallett
While this isn't a new story, I hadn't read it yet. It is sitting on my shelf waiting to be read, just hadn't found the time yet. Well, now I have. This story is told mostly by Elena, though there is a new character who has some POV and Morgan, the werewolf that hasn't joined the pack, but we met in Alaska and was trying an experiment of living as a wolf for two years. He is thinking about joining pack now. He is on his way to Stonehaven when he stops to get something to eat. His choice of town wasn't the best choice. The town's high school mascot, werewolves. Then after eating, he starts to have issues and goes out into the woods to change. He is then found in the snow by the local police naked with no human footprints around, just paw prints. Elena is called. Dead body is found. It is a pretty interesting story as Elena, Clay and Morgan investigate these murders so close to pack territory.
Angelic
This was a reread for me. I've actually read it, listened to it and now once more here. Eve is not my favorite character in the Otherworld series. However, I think this is my favorite story of hers. She is working part-time as an Angel and then gets time off to be just a ghost and spend time with her lover Kristof Nast (the father of her still living daughter, Savannah). When she is working, she works for the Fates, they shift from the old, middle aged to elder as she talks to them. I love the way that part is written, it flows very well as Eve is talking to them. I can almost picture the body switching from one Fate to the other. Here, she has to fix some issues with the Djinn. The Fates extend her work time to figure out the issue with the Djinn.
The Ungrateful Dead
Narrated by Johanna Parker
This is a short story is another reread for me about Jamie Vegas, famous necromancer. She is a TV psychic who talks to dead people on stage. While she can talk to ghosts, that isn't what she does on TV. She works the crowd just like any other psychic hack. Reads people's reactions and plays them. However, in this show, the actual person she's talking to, the ghost shows up. I wonder if that ever happened to her before. She doesn't, however, pass along Uncle Mo's interest in her sister or tell her that he thought she was fat. There is also a ghost who taunts Jaime a ton trying to get her help. When she calls Savannah to get some new banishing supplies, they decide to learn more about this ghost and his request. That's when things get weird. Also, when you're a ghost, don't piss off a necromancer, nothing good can come from it.
Zen and the Art of Vampirism
This is a short story about Zoe, a long time vampire member of the interracial council. Zoe has never been a large member of the Women of the Otherworld books, but she is a fun secondary character that pops up from time to time. She is very old and getting towards the end of her life and she knows it. In this story, two vampires are trying to take her territory of Toronto. It is fun to see how Zoe convinces these two that they don't want to rethink their idea. We get to see several landmarks around Toronto, which is a city that I really want to visit. I'm ashamed to say that I drive through this city every year to and from my cabin in the summer, but have never done more than see it from afar. I really want to spend more time there. One day I will. This is another revisit for me.
Counterfeit Magic
Like Angelic, this is one that I've read, listened and now I'm revisiting at least for a third time. This book follows Lucas and Paige, plus there is time with Adam and Savannah. The team has to investigate a supernatural fight club. Benecio is still trying to lure Lucas into the Cortez cabal. There are some relationship issues between Lucas and Paige, which annoyed me. I loved getting to spend time with Adam and Savannah. This is one of my least favorite stories. Lucas and Paige are not my favorite anyway, but I do love Adam and Savannah, so that kept me from completely disliking this book. I did forget how much this story annoyed me though.
Otherworld Secrets Audiobook Narration
4 Hearts
I really enjoyed the narration of all of these stories. Johanna Parker is the only narrator that I'm really familiar with. She narrates a ton of stuff that I love. I enjoyed the two stories she narrated here. I also enjoyed the narration of the other stories as well. I'm not sure who all narrated all the stories, but they all did a great job.
Reviewed by: