Shattered Justice Audiobook

By:
Susan Furlong
Narrated by:

Amy Landon
Published by: Brilliance Audio 12/31/19

A Bone Gap Travellers Mystery #3
9 hrs and 10 mins
Shattered Justice Audiobook Sample
Shattered Justice Audiobook

4.5 Hearts
This is the third book in the Bone Gap Travellers series. It follows Brynn Callahan who grew up in the pavee community that has "settled" in Bone Gap, Tennessee. Brynn wasn't really part of that community. Her mother got pregnant with a "settled" person and left Brynn to be raised by her grandmother. She always felt on the outside of both communities. After something happened when she was a teen, she joined the Marines. She's now out after her and her cadaver dog were injured in an IED explosion. Now they both have PTSD and she's working for the county sheriff's office as a deputy.
In this story, Brynn and the sheriff's office are finding body parts with messages. They need to find the person doing this before they kill again. Their search takes a lot of twists and turns. They run into a group of backwoods people, then on to a survivalist/militia group. Hard to know where to look next. Brynn also struggles with her addiction and has joined an AA type group as a requirement to keep her job. This story is the toughest one yet for Brynn.
I don't want to go into too much detail on this book because it spoils the suspense of the story, but know this is a great read. I really love the characters in this series. Not just Brynn and her dog, but also her grandmother, her cousin, and the other deputies. I also like learning about the pavee community. I would recommend that you start with the first book, Splintered Silence. Each story builds on the previous one, so best if read in order.
Shattered Justice Audiobook Narration
4.5 Hearts
I really love Amy Landon. This isn't the first series that I've listened to that she narrated. It was her name that caught my eye and made me look at this series. She does a great job with a large cast of characters. She's great with male and female characters. If you haven't tried Amy Landon, I highly recommend her.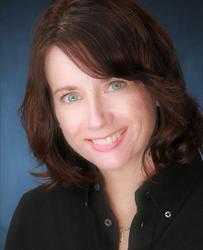 Susan Furlong is the author of the Georgia Peach Mystery series and the forthcoming suspense novel, SPLINTERED SILENCE, the first book of the Bone Gap Travellers Mysteries. She also contributes to the New York Times bestselling Novel Idea Mysteries under the pen name Lucy Arlington. She has worked as a freelance writer, academic writer, ghost writer, translator, high-school language arts teacher, and martial arts instructor. Raised in North Dakota, she graduated from Montana State University with a double major in French and Spanish. She and her family live in central Illinois.
Narrator: Amy Landon
Amy Landon is a classically trained actress with numerous off-Broadway, film, and television credits. Her voice can also be heard on many television and radio commercials. She has an easy facility with dialects, which she also coaches and teaches, and she is happy to find her lifelong obsession with books is matching up with her acting and vocal work.
I like to thank Brilliance Audio for providing me with a copy of this audiobook in exchange for an honest review.
Reviewed by: