I'd like to thank all the participants and congratulate the winners!
A big thanks to my co-hosts, The Book Nympho and The Geeky Blogger Book's blog..Thank you guys 🙂
I had added a ton of audiobooks to my wish list (some I have already purchased) from your picks. I had a lot of fun checking out everyone's best.
The winner of 3 audiobooks from audible.com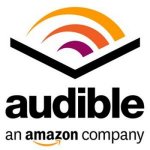 is
Jeanette G.
An e-mail has been sent notifying her of the win, she has 48 hours to claim the prize. In the event of no reply, a new winner will be announced
A big thanks to all who participated!