A Ghostly Undertaking Audiobook
By:
Tonya Kappes
Narrated by:
Tiffany Morgan
Published by Tantor Audio 12/10/2019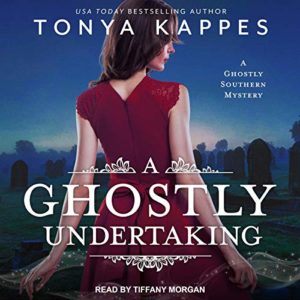 Ghostly Southern Mysteries Series #1

5 hrs and 39 mins


A Ghostly Undertaking Audiobook Sample
A Ghostly Undertaking Audiobook

4 Hearts
I spotted this series a while back in reviews at Braine's Talk Supe blog and I always meant to try it because it sounded like my favorite type of cozy mystery with the southern charm, paranormal and romance elements added in. I finally got my kick in the pants when the audio edition came out recently and I was ready to give author, narrator, and ghost-seeing undertaker a go.
Emma Lee Raines has been able to see, hear, and speak to ghosts since an unfortunate incident when a full-size Santa decoration fell down and hit her in the head. Unfortunately, she didn't have the presence of mind to hide the fact that she talked to the dead so people in her small Kentucky town think she's a loo loo. They chalk it up to her being among dead bodies too long as she grew up in the funeral parlor business and took over as the undertaker when her folks retired leaving it to her and her sister.
Emma Lee doesn't see the ghost of every person who dies, but the recently departed Ruthie Sue Payne is insisting to Emma Lee that she was pushed down a flight of stairs at the B&B that she ran with Em's granny. There is no love lost between those two old ladies since they shared the same dearly departed husband. Ruthie is the ex and Granny was the second wife and widow. Her high school crush, Sheriff Jack Henry Ross, isn't convinced it was an accident and, unfortunately, sees Granny as a prime suspect. Emma Lee has to jump in and play detective now with the ghost of town busy body as her partner.
A Ghostly Undertaking dips into cliché territory when it comes to the small town southern charm, but it was also fun so I forgave it. Emma Lee is the everyday girl misfit who has always been the odd girl and too weird for the rest of the town who might be crazy, but not that type of crazy. It takes her a bit to believe that she's really seeing and hearing ghosts because she believes she is crazy because everyone, including her family, said she was. Her little blip has already cost the funeral home business and her sister rides her all the time. So, she has some stops and starts before she really gets going in the detecting and chatting with the ghost Ruthie. I felt sorry for her, but Emma Lee came into her own in this story which was great to see.
When Jack Henry came around, she was adorkable and she didn't see that he was feeling just as awkward. He has to do his job, but he also was just as interested in her. He was so handsome that she didn't realize that he was shy and found it tough to break the ice. They were cute and I loved seeing him in her corner when no one else was.
The mystery was actually both simple and twisting. The author dropped plenty of clues, but also there were several suspicious types and secrets to lay some false trails.
All in all, I found this fun and an easy listen. It set things up nicely for a series full of small town shenanigans, quirky characters, and interesting ghostly antics. Paranormal cozy mystery fans really must give this one a look see.
A Ghostly Undertaking Audiobook Narration
4 Hearts
 Tiffany Morgan is a well-known narrator, but I think this is my first time listening to her work. I thought she did great with the cast of characters, genders, ages, personalities, tone, and pacing. There was a bit of whine to her voice and occasional sing-song to her southern accent that would catch my ear, but not a huge detraction once I got used to it. I'm glad she's voicing this series because I think it's a good match.
Tonya Kappes has written more than fifty southern cozy mysteries, all of which have graced numerous bestseller lists, including USA Today . Best known for stories charged with southern charm, emotion and humor and filled with flawed characters, her novels have garnered reader praise and glowing critical reviews. She lives with her husband in northern Kentucky. Now that her four boys have flown out of the nest, Tonya writes full-time. 

You can find her all over social media and at Tonyakappes.com
Tiffany Morgan brings the calm, steady balance from her dual career as actor and inspiring yoga teacher to her love of narrating audiobooks. Growing up in the abundantly green Willamette Valley in the great state of Oregon, she has lived and studied across the U.S. and currently calls Atlanta, Georgia, home. Her voice can be heard for major multi-national companies such as IBM, Home Depot, and Turner Broadcasting. She has narrated over sixty books, with some of her favorites being mysteries and inspirational nonfiction. Tiffany appears regularly on the professional stage in and around Atlanta and is an Artistic Family Member of the well-respected Dad's Garage Improv Theatre, as well as being seen in various film and television productions, including AMC's The Walking Dead and ABC's Nashville.
My thanks to
Tantor Audio
for the opportunity to listen to this book in exchange for an honest review.
Reviewed by