Longbourn: Dragon Entail  Audiobook
By:
Maria Grace
Narrated by:
Benjamin Fife
Published by Maria Grace 12/04/2019

Jane Austen's Dragons Series #2

9 hrs and 38 mins


Longbourn: Dragon Entail Audiobook Sample
Longbourn: Dragon Entail Audiobook

5.0 Hearts
After being enthralled by the Jane Austen's Dragons world in Pemberley: Mr. Darcy's Dragon, it was with great anticipation that I gladly put in my earbuds and tucked into this second installment of the series to learn what came next for Darcy, his baby dragon Pemberley, vivacious dragon keeper Elizabeth and the plots swirling around them all.
Longbourn: Dragon Entail is set in a world of Regency manners and customs juxtaposed with the inclusion of dragons of every size, nature, and race living side by side with humans where only a few humans are born in tune with dragons to hear them, see through the mental glamour, and interact with them. In the British Isles, all is regulated by the treaty between dragons and humans called the Dragon Accords and the Order of the Blue Dragon made up of humans and dragons. The dragons live with hierarchy and class, manners and matches just like their human counter parts. But, make no mistake, they are always powerful and dangerous and should be treated with respect even tiny fairy dragons who can poison or glamour. Against this setting, the author placed Jane Austen's Pride & Prejudice story.
In the previous book, the hero and heroine got off to a rocky start from a series of misunderstands, miscommunications, and villainous interference. Fitzwilliam Darcy, wealthy estate owner and upper class gentleman from Derbyshire was on the hunt for the legacy of his family estate, a stolen fire dragon egg. He was able to recover the egg in the small village of Meryton where he encountered a vivacious and vexing woman who knew more dragon lore than many members of the Order. She is unimpressed by his status and even blames him for the loss of the egg and his ignorance of what she considers knowledge that every responsible dragon keeper should know.
Elizabeth thinks she has Darcy's number and is utterly unimpressed from the moment she meets him. She sees him as arrogant and ignorant and thus is susceptible when a certain charming officer feeds this with tales of woe and mistreatment from Darcy. She aids Darcy because she must for his baby fire dragon's sake.
Now, in this installment, Lizzy thinks she has an even stronger reason to dislike Darcy because she thinks he took away the baby dragon before he knew enough to care for it and separated her from the sweet baby. Meanwhile, her estate dragon, Longbourn, whom she serves as keeper, is forcing her into a match with the male heir of her father's estate and her father is going along with it to help secure the next generation of keepers. Collins is a bluff and bumbling man who disgusts her, but she will do her duty. That is until both Longbourn and Collins push her too far and make her go on the run. She is convinced that Longbourn tried to mentally coerce her even though he denies it.
Darcy is now staying on his aunt's estate so Rosings, the fire dragon of the estate, can act as surrogate for Pemberley his fire dragon baby. He wishes that the testy and jealous Longbourn hadn't sent him away before he could learn all he could from Elizabeth to care for Pemberley and he is sorry she believed so many lies about him, but his pride and also his promise to his sister, Georgiana, for her part in it all with Wickham, held his tongue. If only Elizabeth would see the real him and why isn't she answering his letters asking aid for Pemberley when she is sickening?
This book picked right up where the last left off and continued the story. It has several things going on that carry over from the first book, a series of misunderstandings that cause Darcy and Elizabeth into a slow-burn enemies to lovers, the plottings of dragons- one known and one hinted at, the plottings of humans- Darcy's aunt who wants his wealth and status for her daughter and Wickham a jealous enemy of Darcy who seems overly interested in dragons considering he isn't gifted to hear them. Elizabeth feels isolated on her family estate where crotchety estate dragon Longbourn dictates her life to keep his own comforts and her ill, weak father who is technically Longbourn's current keeper goes along with it all even the arranged marriage with detestable Mr. Collins.
This is very much a set up book because the hints from book one grow to full on concerns in Longbourn Dragon Entail. It expands things from the close setting around Elizabeth's country estate to now include the Rosings Park estate and London and the Order. Both Darcy and Elizabeth were floundering on their mistakes and misunderstandings along with lack of real communication. That part, I was glad to see come to a head. Elizabeth had a lot of wrong notions that needed to be disabused so she wouldn't continue on the dangerous path she was on with Wickham and a few other issues.
There is a wonderful blend of dragon to dragon, dragon to human, and human to human interaction going on so that characters of both races are fully-fleshed out and part of the action. The dragons steal the show much of the time. Darcy's companion dragon and Elizabeth's reflect a lot of their human companion's temperament. Baby Pemberley was adorable and I thought the curmudgeonly Longbourn and stately Rosings just added to the mayhem that also came with such colorful human characters like snobby Lady Catherine and ignorant Mr. Collins.
I loved the exciting moment when a few major matters came to a head and set things up for the final actions needed in the third upcoming book. I was on the edge of my seat and was not disappointed. Now, I can't wait for what comes next after where things were left.
In summary, this middle book did a great job of transitioning the opening actions and intro in book one to creating higher anticipation for what is to come in the last book while never lagging. Those who love a developed historical fantasy world of dragons and humans whimsically melded with a classic story should give this book/trilogy a look-see.
Longbourn: Dragon Entail Audiobook Narration
5.0 Hearts
Benjamin Fife is the series narrator and this was my first occasion to listen to his work. He had the complicated job of narrating a story with not just a plethora of human cast of characters of both genders, ages, classes, and temperaments, but also dragons of every shape and size and race. He did splendidly. I think I was most enthused for his dragon voices and actually giggled the first time I heard the squeaky high voice of Elizabeth's fairy dragon companion in the same scene with the deep languid voice of Longbourn a huge dragon. I'll definitely have to listen in to more of his work.
Though Maria Grace has been writing fiction since she was ten years old, those early efforts happily reside in a file drawer and are unlikely to see the light of day again, for which many are grateful. After penning five file-drawer novels in high school, she took a break from writing to pursue college and earn her doctorate in Educational Psychology. After 16 years of university teaching, she returned to her first love, fiction writing.
She has one husband and one grandson, two graduate degrees and two black belts, three sons, four undergraduate majors, five nieces, is starting her sixth year blogging on Random Bits of Fascination, has built seven websites, attended eight English country dance balls, sewn nine Regency era costumes, and shared her life with ten cats.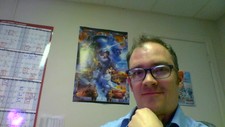 Benjamin Fife "I've been narrating professionally for over a year now. But before that I've read to my kids for 10+ years"
Website: https://www.bennyfifeaudio.com/
Reviewed by