A Plague of Giants Audiobook
By:
Kevin Hearne
Narrated by:
Luke Daniels, Xe Sands
Published by Random House Audio 10/17/17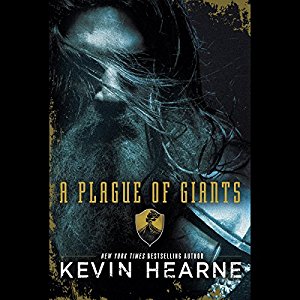 22 hrs and 13 mins

A Plague of Giants Audiobook Sample
A Plague of Giants Audiobook

4 Hearts
So I was very excited to start this book. I've been a fan of The Iron Druid Chronicles since I finally started it last year (yes, I was very late to the party, but better late than never). I was very interested to see what Kevin Hearne had in store for us with his new series. And to learn that Luke Daniels is back as the narrator, now paired with Xe Sands, was a real treat.
So let me start by saying that this is not The Iron Druid Chronicles. It is a completely different story and writing style. They aren't similar at all. This is a much more complex read. I had to pay way more attention to this story to get everything than I did with Atticus. Also, this story is told from many POVs, and a lot are being told through a bard's telling of the stories (which he does magically). Then there is also the story of the bard. So, we are frequently going back and forth from past to present.
So this book is set in a completely different world than ours. People can get magical powers, called kennings. They do have to go through a process to get the powers and not everyone survives the process. For example, to get the powers of a tidal mariner, most powerful of the water gifts, you have to dive into this tunnel. If you're blessed by the goddess, you will be able to breathe the water and live. If not, you drown. There are five known kennings, though the sixth one is discovered in this book. There are people who are desperately looking for a supposed seventh kenning. Lastly, the more you use your kenning, the faster you age. I love that there is a trade off for magical powers (both in getting the powers and in how they are used). It makes them feel more real.
The things I really loved about this book was the characters (I'm sure you're all surprised, since I love character driven stories). There are several characters to root for in this story. There are people who may not survive, but you love the time you spent with them. I really enjoyed learning about all the kennings. I'm really excited to see where book two goes from here (waits patiently for release date of book two). I highly recommend this story, just know that it isn't a light read.
A Plague of Giants Audiobook Narration
4.5 Hearts
I knew that I would love the narration of Luke Daniels, but this is my first book with Xe Sands (which really surprised me. I thought I had listened to her before, but I can't find anything. I did meet her at RT17 in Atlanta. She was very sweet). I will say that these two did an amazing job with the narration of this book. There is a large cast of characters and they nailed them all. Xe narrated all the parts told from a female's POV and Luke from the males, but they both had to male and female voices. They also used array of accents, from both male and female voices. I love all the voices they chose. I can say that I truly felt that I enjoyed this story more listening than I would've if I had read it.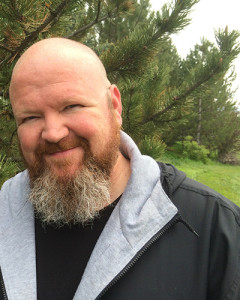 Kevin Hearne is the NYT bestselling author of the Iron Druid Chronicles, as well as two forthcoming series: The Seven Kennings, an epic fantasy trilogy, and Tales of Pell, a fantasy series co-authored with Delilah S. Dawson. Books 1-8 of the Iron Druid Chronicles are out now; BESIEGED, a collection of new Iron Druid stories, will be out July 11; A PLAGUE OF GIANTS, the first book of The Seven Kennings, will be out Oct. 17.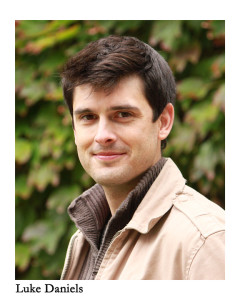 Luke Daniels was born into a family of actors. Both his father and mother have been performing and teaching for almost five decades. It is because of their influence that, from a very young age, Luke and his two brothers often found themselves in rehearsal halls at repertory theatres all over the country; watching innumerable productions of Much Ado, Julius Caesar, and Midsummer's.
Luke's first theatrical role came at the age of 5 as Fleance in a production of Macbeth. He immediately loved the creativity and camaraderie of the theatre. (It also didn't hurt that he was allowed to miss school for certain performances.)
Over the years Luke has performed at many repertory theatres across the country, including the Utah Shakespearean Festival, Connecticut Rep., and Hope Summer Rep. in Holland, Michigan. Luke has his Bachelor's from Western Michigan University and his MFA in performance from the University of Connecticut.
Luke has worked professionally as a director, teacher, audiobook narrator, voice-over, commercial, and industrial actor.
But he maintains that the greatest role he has ever played is that of a Father to his daughter.
Narrator: Xe Sands
Xe Sands is an award-winning narrator known for her authentic characterizations and intimate delivery. She has more than a decade of experience bringing stories to life through narration, performance, and visual art, including recordings of Wonderland by Stacey D'Erasmo, The Art Forger by B. A. Shapiro, and Survival Lessons by Alice Hoffman. Sands has also been recognized for her engaging romance narrations and was named Most Impressive Narrator Discovery for titles such as Catch of the Day by Kristan Higgins and On Thin Ice by Anne Stuart.
Reviewed by: