Accidental Sire Bite Audiobook

By:
Molly Harper
Narrated by:
Amanda Ronconi
Published by: Audible Studios 7/24/17

9 hrs and 7 mins

Accidental Sire Audiobook Sample
Accidental Sire Audiobook

4 Hearts
I'm a huge fan of of the Half-Moon Hollows series. This series is always able to make me laugh. They are fun and quick reads that I know will put me in my happy place. This one is exactly what I expected from this series. It was exactly what I needed when I started this story (which I listened to in a single day).
So this story starts off at University of Kentucky with Meagan Keene (who we met in Big Vamp on Campus). She is friends with Ophelia (can you believe she has friends??). She was talking with Ben Overby at a party. Just moments later, she is hit with a 45 pound barbell that was being used for Ultimate Frisbee by some vamps. She accepts being turned into vamp instead of dying, which is what would've happened. A guy named James Marsters (love the Buffy reference here, though I'll admit that the name makes me think more of Harry Dresden than Spike) offers to turn her and then disappears. Problem is that this isn't normal. Meagan wakes up way too soon. She also bites Ben when he was visiting her (while she should be dead to the world). He is turned too, which shouldn't happen.
So in this story, Jane has to figure out what is going on. She takes Meagan and Ben back to her place to keep an eye on them until everyone figures out what is going on and they are able to control themselves around humans. They are both working for Jane at the council. The scientist doctor there has an unhealthy obsession with figuring them.
This was another fun addition to the series. I loved seeing Jane and the gang again. Georgie has a larger presence in this story, which I really enjoyed. I liked Meagan and Ben's story. I liked the mystery as they searched for why Meagan and Ben are different from all vampires before them. There are a ton of fun one-liners that made laugh out loud several times (as in all Molly Harper books 🙂 ).
Accidental Sire Audiobook Narration
4.5 Hearts
I love Amanda Ronconi's narration of this series. She is perfect for this series. She really brings out the humor between the characters. I can't even imagine reading this series. I started off with audiobooks and I don't see that ever changing. If you haven't tried this series on audio, I highly recommend it.
Being a huge fan of vampire movies and TV shows, I wondered, what would be the most humiliating way possible to be turned into a vampire- a story that a vampire would be embarrassed to share with their vampire buddies over a nice glass of Type O. Well, first, you'd have to make the protaganist a bit of an accidental loser. She's single, almost 30, and a librarian working in the small Kentucky town where she grew up. This "triple whammy of worry" has made her a permanent fixture on her Mama's prayer list. And despite the fact that's pretty good at her job, she just got canned so her boss could replace her with someone who occasionally starts workplace fires. She drowns her sorrows at the local faux nostalgia-themed sports bar and during the commute home, she's mistaken for a deer and then shot by a drunk hunter. And then she wakes up as a vampire.
And thus, Jane Jameson and the wacky denizens of Half-Moon Hollow were born.
It took me almost a year to complete and edit a draft of the book, which I planned as the first in a three-book series. I spent three months using agentquery.com to ruthlessly stalk potential literary agents. (There were a lot of lists involved, I don't want to re-live it.) I was gently rejected by at least half of them. I corresponded with some very nice, very patient people, but ultimately signed with the fabulous Stephany Evans of Fine Print Literary Management. Stephany was willing to take to the time to give me advice on how to imp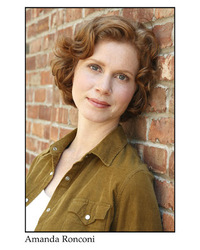 I am an actress, narrator and writer who divides my time between New York City and Upstate New York.  I have a BFA from NYU where I studied at the Stella Adler Conservatory.  I have performed in theaters around New York City as well as regionally at The Alley, Capital Rep and many productions at the Shakespeare Theatre of New Jersey.
My Off-Broadway solo comedy, Shirley at the Tropicana, received critical acclaim and was subsequently featured in The New York Times.  Film and TV credits include Daydream Believer (Slamdance 2001's Best Dramatic Feature winner), The Understudy, Deadly Sins (ID Discovery), IFC's Get Hit and Chasing Paradise. National network and regional commercials include Chase Bank, Sony and Blue Cross/Blue Shield.  My voiceover work encompasses over 70 audiobooks available on Audible.com.
Reviewed by: