An American Weredeer in Michigan Audiobook

By: 

C.T. Phipps, Michael Suttkus
Narrated by:

Arielle DeLisle
Published by: Crossroad Press 4/3/18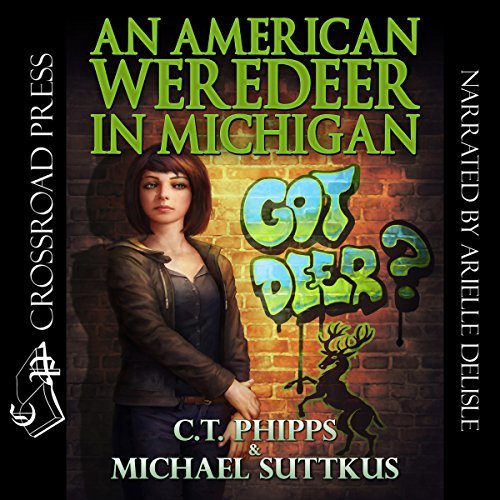 9 hrs and 15 mins

An American Weredeer in Michigan Audiobook Sample
An American Weredeer in Michigan Audiobook

4 Hearts
Jane Doe, our nineteen year old weredeer lead character is at it again. She can't help but stumble into trouble. It seems wherever she goes, she finds trouble. This time, while out on a picnic with her best friend and werewolf, Emma, they are met with two monster hunters. Then stumble upon a mass grave of baby skeletons.
The villain even has two different references that I always thought about when he was mentioned. Dr Jim Jones. There are times when they talk about Jim Jones, and yes, he is a cult leader too, which always made me think of Jonestown. Then other times, he's called Dr. Jones, which makes me think of Indiana, which this Dr Jones really doesn't match in my eyes.
So, Jane has to battle another baddie with a little help from her friends. Some hard choices have to be made by many. Jane's gun continues to be snarky. We also learn more about the gun's history.
Oh, should I mention Jane's relationship issues? There is this hot FBI agent, Alex, who she has had a bit of a long distance thing going on with for a while. Then there is Lucien, mob boss who own a nightclub with a portal to hell. Oh, and he's Alex's adopted brother, Lucien being the one adopted into the family. Emma also has a crush on Jane. Jane is bisexual, but is a little creeped out about her best friend having a crush on her. There is just a lot going on here and I wish there was less. I think we've made some progress on this, but I'm not 100% sure yet.
This is a humorous mystery that will be enjoyed by urban fantasy and cozy mystery fans alike. While, I don't think there are quite as many deer puns (evidently, that is something that weredeer just love, puns) in this book as the previous one, there are still plenty to keep you chuckling. There are also more than plenty pop culture references to make everyone happy.
I continue to enjoy the humor that these two authors bring to this series. I can't wait to read more to see what's next in store for Jane Doe and the gang.
An American Weredeer in Michigan Audiobook Narration
4 Hearts
I continue to enjoy Arielle DeLisle's narration of this series. Her voice sounds a bit young, but since Jane is only nineteen, I'm okay with it. I like the voices she chooses for most of the characters. I don't mind the men's voices, which are pretty masculine when compared to Jane's young voice. I like the women's voices. I think she does a great job bringing out the humor in this series.
C.T Phipps is a lifelong student of horror, science fiction, and fantasy. An avid tabletop gamer, he discovered this passion led him to write and turned him into a lifelong geek. He is a regular blogger on "The United Federation of Charles".
He's written Agent G, Cthulhu Armageddon, Esoterrorism, I Was A Teenaged Weredeer, Lucifer's Star, Straight Outta Fangton, The Supervillainy Saga, and Wraith Knight.
Narrator: Arielle DeLisle
Arielle DeLisle is a narrator, voice actor, and commercial producer based in Phoenix, Arizona. She has recorded more than sixty audiobooks, including dystopian young adult titles and Michael Wallace's Righteous series. She lives with her two young, dinosaur-loving kids and several mischievous cats.
Reviewed by: