Archangel's Prophecy Audiobook

By:
Nalini Singh
Narrated by:

Justine Eyre
Published by: Tantor Media 10/13/2018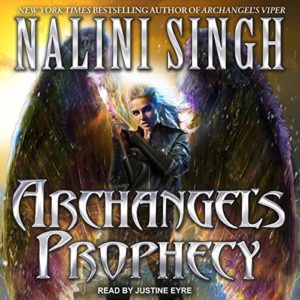 11 hrs and 44 mins

Archangel's Prophecy Audiobook Sample
Archangel's Prophecy Audiobook

5 Hearts
I love this series from Nalini Singh. If you're not familiar with this series, it is a combination of urban fantasy and paranormal romance. It starts off following guild hunter turned angel, Elena, and archangel, Raphael. They are the main couple of the series. The first few books follow them, but then the author starting writing books in the series that follow other characters as they become couples, which is where the more PNR thing comes in. There has been a couple of times that she has gone back to Elena and Raphael and that is what we have with this book.
The series consists of angels and vampires as the two main paranormal creatures. Angels are the ones who make vampires and those vampires have to work for the angels for 100 years in exchange for their immortality. There are very severe punishments, including possible death, for vampires who try to break their contracts. There is also the Guild, which is hired by the angels to track and find these rogue vampires and bring them back to finish their contracts. There is also the Legion, which is a species of gargoyle that think with a hive mind. They are also ancient and newly awoken into this completely different world.
Right now, the characters are in New York City and dealing with The Cascade, which is a magical power boost. It reminds me of a Flare in Kate Daniels. A lot of magic and things go wonky to both people and the world they're living in.
On top of dealing with everything going on with The Cascade, there is also a mystery that Elena is trying to solve. Her vampire brother-in-law was nearly decapitated. She is working on figuring out why someone would attack him. Oh, and Cassandra, ancient angel, so ancient, some even think she's just a legend, seems to be talking to Elena mind to mind. Cassandra was a prophet who is said to have clawed out her eyes to stop seeing the future, which didn't work.
Raphael is dealing with an issue with a newly arisen archangel who has control of one of the largest territories. We don't get to see them together much, because they are each fighting their own battles, but what we see of them together gives all the feels.
We get some time with several characters we've spent time with in the past, like Dmitri, Janvier and Ashwini, Vivek, and Ransom all get a good amount of page time. I love seeing more and more of Vivek, paralyzed guild hunter, turned vampire, computer genius. Last, I want to mention everyone's favorite angel, Illium, a.k.a. Bluebell for his beautiful blue wings. We get some time with him, but it never seems enough. I know Nalini Singh is going to keep us waiting (just like Jeaniene Frost did with Ian), but I know she will give us a book for Bluebell one day. I will continue to wait, because I trust her to do what's best for Bluebell.
Conclusion, another wonderful installment of the Guild Hunter series, one of my favorite series. This is not a series to be read out of order. You must start with book one and work your way through each of the full length novels to understand everything that is going on. You can skip the novellas and short stories (she writes a lot of them, some are in her email newsletter). You can read those out of order.
Archangel's Prophecy Narration
5 Hearts
I love Justine Eyre's narrator. I can't remember which book was the first one I listened to in this series, but I've been audio only ever since. I love all her voices for the different characters. She also puts a lot of passion into the voices. You can really feel the difference between the very warm and human Elena and Raphael, who is very much not human, but is getting closer every book. There are also the Legion who talk to Elena in her mind all at the same time and they have a very interesting voice that I think she's done a great job with. Male, female, otherworldly, doesn't matter, she gets a great voice for the character's personality. I highly recommend her narration.
Nalini Singh born in Fiji and raised in New Zealand. I also spent three years living and working in Japan, during which time I took the chance to travel around Asia. I'm back in New Zealand now, but I'm always plotting new trips. If you'd like to see some of my travel snapshots, have a look at the Travel Diary page (updated frequently).
So far, I've worked as a lawyer, a librarian, a candy factory general hand, a bank temp and an English teacher and not necessarily in that order. Some might call that inconsistency but I call it grist for the writer's mill.
Justine Eyre is a classically trained actress who has narrated over two hundred audiobooks. With a prestigious Audie Award and four AudioFile Earphones Awards under her belt, Justine is multilingual and is known for her great facility with accents. She has appeared on stage in leading roles in King Lear and The Crucible, and has starring roles in four films on the indie circuit. Her recent television credits include Two and a Half Men and Mad Men.
I like to thank Tantor Media for providing me with a copy of this audiobook in exchange for an honest review.
Reviewed by: