Archangel's War Audiobook

Published by: Tantor Media 09/24/2019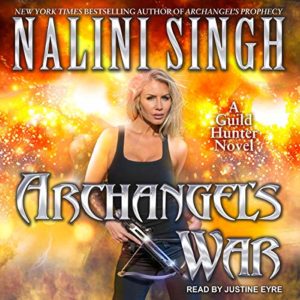 15 hrs and 39 mins

Archangel's War Audiobook Sample
Archangel's War Audiobook

5 Hearts
I love the Guild Hunter series. It features angels and vampires. The Guild hunts down vampires who try to skip out on their contracts to the angels who turn them. The series is a mixture of paranormal romance and urban fantasy. Mostly it follows the archangel of New York, Rapheal and his consort, Guild Hunter turned angel, Elena. But there are also books that have covered some of the side characters' romances, which have been a lot of fun.
The series has been mostly following Rapheal and Elena as we've been building to this war for a few books now. The Cascade is also coming, which is doing some strange things to everyone's power, for good or bad.
I don't want to go into too much detail on this particular story, because of spoilers to this story and the earlier books, if you haven't read them. What I will say, is that the series has been leading up to this point and this book doesn't disappoint the anticipation leading up to it. I'm not sure where the series goes from here, but I can't imagine that the series is done. While the series arc does seem like a finale, there are still a lot of stories left to be told for the characters of this series. And, there will be a large revolt if Bluebell doesn't get his own story.
This series is highly recommended to anyone who likes paranormal romance or urban fantasy, that has plenty of action and romance, which this series has in spades. Each story builds on the previous, so you will want to read in order.
Archangel's War Narration
5 Hearts
Justine Eyre continues to do a great job with the narration of this series. It has a large cast, with more males than females, but she doesn't struggle with the large cast of characters. There is also the very old angels that are cold and extremely confident, which she brings out in their voices. I really love her narration. I don't think I could ever go back to just reading after listening to her narration of the series.
Nalini Singh born in Fiji and raised in New Zealand. I also spent three years living and working in Japan, during which time I took the chance to travel around Asia. I'm back in New Zealand now, but I'm always plotting new trips. If you'd like to see some of my travel snapshots, have a look at the Travel Diary page (updated frequently).
So far, I've worked as a lawyer, a librarian, a candy factory general hand, a bank temp and an English teacher and not necessarily in that order. Some might call that inconsistency but I call it grist for the writer's mill.
Justine Eyre is a classically trained actress who has narrated over two hundred audiobooks. With a prestigious Audie Award and four AudioFile Earphones Awards under her belt, Justine is multilingual and is known for her great facility with accents. She has appeared on stage in leading roles in King Lear and The Crucible, and has starring roles in four films on the indie circuit. Her recent television credits include Two and a Half Men and Mad Men.
I like to thank Tantor Media for providing me with a copy of this audiobook in exchange for an honest review.
Reviewed by: